Prestigio has recently unveiled his flagship smartphone Multiphone 3501 DUO, and the company has released a new firmware for the same. The latest firmware update of Prestigio Multiphone 3501 DUO will update your device from v 1.0.08 to v 1.0.12. The software update can be downloaded from the download link which is provided at the end of the article.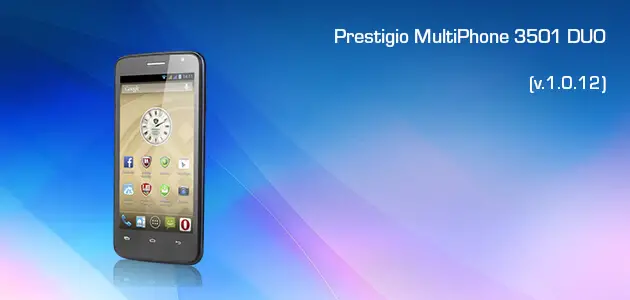 Firmware updating procedure is same as I had earlier mentioned for Prestigio MultiPad 4 Quantum 7.85 3G. However, before proceeding to the firmware update, make sure you have backup all the personal data, then only proceed. After updating the firmware of Prestigio Multiphone 3501 DUO; Prestigio apps will be updated, APN will be updated, Language localisations will be improved and the most important thing System stability will improve.
How to Update the Firmware of Prestigio Multiphone 3501 DUO Smartphone :
Procedure of firmware update through OTA :
Connect to the internet using your Prestigio Multiphone 3501 DUO
Go to Settings -> About Tablet -> System updates -> Check Now
Then accept the firmware file for downloading
Follow the further instructions that pop-up on the screen
Procedure to update software through PC :
Download the firmware update from the download link, which is provided at the end of the post.
After downloading the firmware folder onto your Personal Computer, extract (decompress) all files from the archive (the folder) using WinRar software.
You will get a user manual for upgrading which is included inside the archive.
Download Firmware (Software) Update of Prestigio Multiphone 3501 DUO