Lenovo has recently launched a 13.3-inches Yoga Tablet 2 Pro (Android-based), the 8-inch and 10-inch Yoga Tablet 2 (Android and Windows based), and the 13.3-inch Yoga 3 Pro (Windows-based). Now, the company has added another tablet in the Yoga range slate, the Yoga Tablet 2 with Windows 8.1 OS.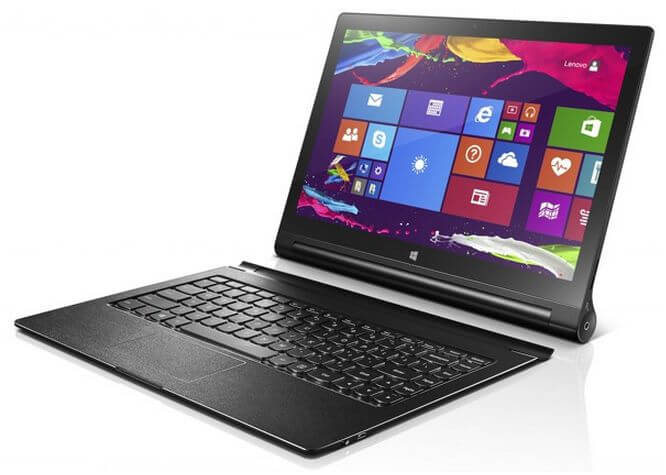 The 13.3-inch Yoga Tablet 2 running on Windows 8.1 OS and priced at US $699 (Rs. 43,000 approximately) which includes the keyboard cover. and will be available in November. It will come bundled with 1-month trial of Microsoft Office 365. It also comes comes with a kickstand that can rotate up to 180 degree and offers four different modes namely, hold, stand, tilt, and hang.
The new Lenovo Yoga Tablet 2 features a 13.3-inch QHD (2560 x 1440 pixels) touch display and powered by Intel Atom Z3745 (1.86GHz, 2MB cache) processor. It is backed by a 12,800 mAh battery and rated for up to 15 hours of battery life. The tablet is equipped with a large-chamber JBL stereo speakers with subwoofer. Connectivity options include Wi-Fi (a/b/g/n), Bluetooth 4.0, Micro-HDMI, micro-HDMI, audio in/out and Micro-USB.
Further, the new Lenovo Yoga Tablet 2 includes 4GB of RAM and houses 64GB of inbuilt storage that is also expandable with up to 64GB of microSD card. It sports a 1.6-megapixel front-facing camera, however, there is no rear camera is available. The handset measures 324.1 x 221 x 3.7-14 mm and weighs 2.27 lbs (without keyboard).
Key specifications of Lenovo Yoga Tablet 2 with Windows 8.1 :
13.3″ qHD touch display
2560 x 1440 pixels resolution
Windows 8.1 OS
Intel Atom Z3745 (1.86GHz, 2MB cache) processor
4GB RAM
64GB ROM
12,800 mAh battery
Wi-Fi (a/b/g/n), Bluetooth 4.0, Micro-HDMI, micro-HDMI, audio in/out and Micro-USB
1.6MP front camera