The W200 is another 3G router from Lava, like W520, available in via e-commerce online website homeshop18 with a tag price Rs 999 only.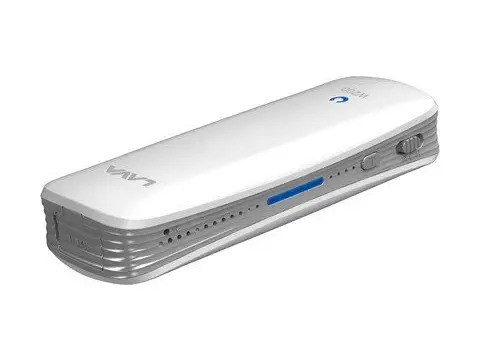 According to the re-seller, the W200 creates a Wi-Fi hotspot from your 3G dongles or Ethernet connection, support up to 32 users access to internet at the same time. Supply power to electronic products (iphone/ipad/smart phone) via USB as power bank. In W200, there is 1800mah battery. It can be powered by outer input 5V@1A or inner battery.
The W200 is compatiable with HSDPA/HSUPA/HSPA+,CDMA EVDO Rev A/B USB modem, can automatically recognize ADSL/DHCO and WAN/LAN without any preset profile. It also supply power to electronic products, connects iphone and shares internet connectivity, alonside support Wifi access.
Internet is accessible through 3G Wireless access (WCDMA/EVDO/TD-WCDMA) as well as WAN/LAN Port cable. The Lava W200 support 802.11b/g/n WiFi standards, can connect with max bandwidth 150Mbps, support over 32 WiFi clients port connection.
The router can transmit data up to 30 m indoors or 50 m outdoors. Powerful 1800mAH battery able to provide 4 hours worktime or 8 hrs standbytime, whereas W520 powered with a massive inner battery of 5200 mAH capacity, working time is 8 hours while standby time is 10 hours.
Charging option is available via PC/Notebook USB port, Power adaptor (5V 1.2A), general mobile phone charger and car adaptor. Its operating temperature is -10 to 55 ° C, storage temperature -20 to 60 ° C, and humidity 5 % ~ 90 %.
Measuring the W200 3G router, its dimension is 9.5 x 3.5 x 1.4 cm, weighs not mentioned.
Ethernet Support (RJ45), Plug and Play, Portable sleek design and Pocket friendly are another features of W200.
You may see video reviews of Lava W200 3G Router :
The router supports EVDO and 3G Modems, Multi User Support Upto 32 Users on Local LAN, Pocket Friendly, Compatible with HSDPA/HSUPA/HSPA, CDMA EVDO Rev A/B USB Modem, Automatically Recognize ADSL/DHCO and WAN/LAN Without Any Preset Profile, Connects iPhone and Shares Internet Connectivity, WAN/LAN Port Cable Access, Transmission Distance of 30 m (Indoor), Charge Battery: via PC/Notebook USB Port, via Power Adapter, via General Mobile Phone Charger, via Car Adapter, 3G Wireless Access (WCDMA/EVDO/TD-WCDMA), Compatible Dongle List – Operator 3G Dongle: Huawei E1731(E173Cs-1), Huawei E1731(E173Bu-1), ZTE K3770-Z, Alcatel X220S, Operator EVDO Dongle: Huawei EC152, Huawei EC156, Huawei (DT01,DT04 & DT05), ZTE AC2787 (DT05), Huawei EC306, ZTE AC2791, ZTE AC2787, Huawei EC159, Open Market 3G Dongle: Hojy 730G, Longcheer 730G+, T&W 21G, T&W 740G, Longcheer 352G, Longcheer 353G, Hojy 355G, Micromax 377G.
The key features and specifications of Lava W200 3G Router :
Charge Mobile Phones & Tablets via USB
USB 2.0
Supports EVDO & 3G Dongles
USB Card Reader
Wireless Router
Mobile HDD
Plug & Play
Creates 3G Network Sharing as a Hotspot
Ethernet Port (RJ45)
Supports Upto 150 Mbps
Multi User Support Upto 32 Users on Local LAN
Wi-Fi Standard IEEE 802.11b/g/n
Supports LAN Upto 32 Users on Wi-Fi Network
Power Bank with 1800 mAh Battery
Wireless Cloud Sharing via USB Flash Disk