Lava's another product, W520 3G router is available in India via e-commerce online website snapdeal, with a tag price Rs 1499.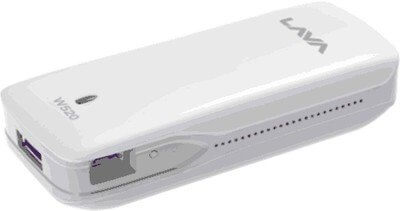 The Lava W520 sports 150 Mbps wireless speed on IEEE 802.11b/g/n standards. The device has Reset, Battery Indicator, On, Off and Charge controls.
The W520 boasts battery and charge light indicators; has one USB 2.0 port. It supports RJ45 LAN and WAN ports also.
Creates Wi-Fi Hotspot, Power Bank, supports EVDO and 3G dongles, support upto 32 users, Plug & Play and recognition of WAN/LAN automatically are additional features of W520 router.
Measuring the W520, its dimension is Height 95 mm x Width 45 mm x Depth 25 mm, available in white colour. W520's operating humidity  is 5 % – 90 %, supports operating temperature -10 DegC – 55 DegC and storage at -20 DegC – 60 DegC.
The W520 can connect iPhone and shares internet connectivity, working time is 8 hours while standby time is 10 hours. The router is powered with a massive inner battery of 5200 mAH capacity.
You can access the internet with WCDMA/EVDO/TD-WCDMA, compatible with HSDPA/HSUPA/HSPA, CDMA EVDO Rev A/B USB Modem.
Operator 3G modems Huawei E1731 (E173Cs-1), Huawei E1731(E173Bu-1), ZTE K3770-Z, Alcatel X220S, Operator EVDO Dongle: Huawei EC152, Huawei EC156, Huawei (DT01,DT04 & DT05), ZTE AC2787 (DT05), Huawei EC306, ZTE AC2791, ZTE AC2787, Huawei EC159, Open Market 3G Dongle: Hojy 730G, Longcheer 730G+, T&W 21G, T&W 740G, Longcheer 352G, Longcheer 353G, Hojy 355G and Micromax MMX 377G are supported.
The main features and specifications of Lava W520 3G router :
Charge Mobile Phones & Tablets via USB
USB 2.0
Supports EVDO & 3G Dongles
Ethernet Port (RJ45)
Power Bank with Massive 5200 mAh Battery
Plug & Play
Wireless Router
Supports LAN Upto 32 Users on Wi-Fi Network
Wireless Cloud Sharing via USB Flash Disk
Creates 3G Network Sharing as a Hotspot
Supports Upto 150 Mbps
Multi User Support Upto 32 Users on Local LAN
Wi-Fi Standard IEEE 802.11b/g/n
Mobile HDD
USB Card Reader