HUAWEI Mobile WiFi E586 is a high-speed packet access mobile hotspot. It is a multi-mode wireless terminal for SOHO and business professionals, it can support 5 Wi-Fi devices connecting and can stay online anytime and anywhere.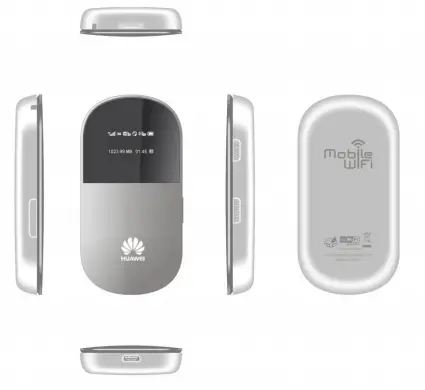 The main features of Huawei E586 Mobile Router :
Able to connect with Tablet, Laptop, notebook and different types of Wi-Fi devices
Support up to 5 Wi-Fi enable devices at the same time
One-touch connection and OLED screen display
Friendly user interface
5 hours working and 280 hours stand-by by battery (while Wi-Fi is off) *
*Depending on the state of network and environment
Product Specifications of Huawei E586 WiFi MiFi Modem Router :
Wi-Fi 802.11b/g/n
HSPA+/HSPA/UMTS (3G) EDGE/GPRS/GSM(2G)
HSPA+ data service up to 21.6 Mbps
HSUPA data service up to 5.76 Mbps
Equalizer and receive diversity
microSD Card Slot(Up to 32GB)
Data and SMS Service
System requirements to Run Huawei E586 WiFi MiFi Modem Router :
Windows XP SP2/SP3, Windows Vista SP1/SP2, Windows 7
MAC OS X 10.5,MAC OS X 10.6,MAC OS X 10.7
Hardware system should meet the recommended requirements for the installed OS version
Display resolution: 1024*768 or above
More Specs of Huawei E586 wifi mifi :
Supported Band : 
3G: HSPA+/HSUPA/HSDPA/UMTS; 2G: GSM/GPRS/EDGE
Transfer rate : 
UL 5.76Mbps; DL 21.6Mbps
Receive Diversity : 
Supported
Micro SD card :
Supported
External memory :
Up to 32GB
Dimension (L × W × H) : 
95.5mm×48.6mm×14.1mm
Weight : 
80g
Users who want to unlock his Huawei E586 wifi mifi router in cheap rates can follow this guide. Users who want to update his firmware of his Huawei E586 wifi mifi router can use this guide (Huawei E586 wifi Firmware download link and step by step guide to update the firmware) .