Huawei has launched new flagship mobile WiFi router, calls it E5771 WiFi Plus. Unlocked one E5771 can be purchased in Saudi Arabia for 599 Saudi Riyal (US $160), which is sold by Jarir Bookstore.
With a stunning design, the router can be purchased in Black, White and Gold variant colors. It is upgraded version of E5730, which is basically a router with power bank. Huawei E5771 has also the same function, as it can provide you 4G internet connectivity as well as power bank facility.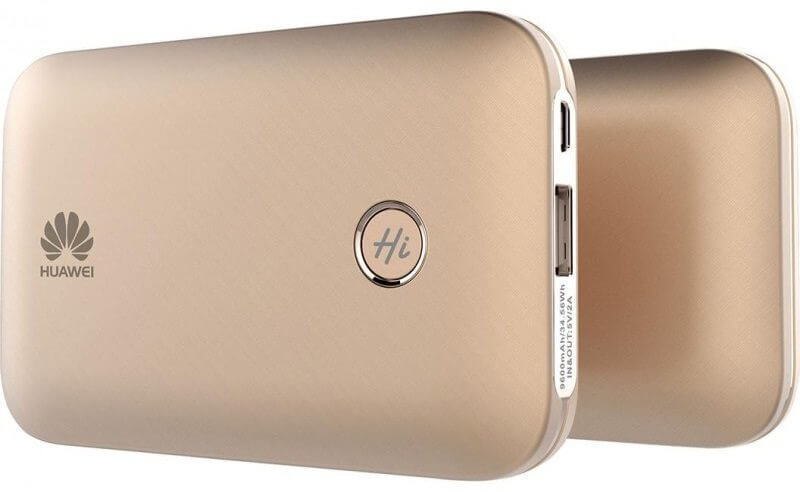 Huawei E5771 comes with a 9600mAh battery, which can provide internet connection up to around 38 hours. You can also charge other devices like mobile phones, tablets, Pads etc. Currently, sub-model E5771s-852, E5771h-937, and E5771s-856 can be seen in the market, I have no details about other sub-models yet.
Huawei E5771 supports TDD-LTE: B38/B39/B40 (2300MHz~2370MHz) and TD-SCDMA: B34/B39 bands. It provides WLAN IEEE 802.11b/g/n (2.4GHz) standard, which peak speed is up to 300Mbps. It has WiFi encryption WPAS-PSK and WPA/WPA2-PSK, to secure data over WiFi. You can connect up to 10 devices with E5771 simultaneously. It has 128MB NAND Flash and 128MB DDR SDRAM. Other than this SMS, Firewall, LAN IP filter, ACL, DMZ, UPnp, CONE NAT, Symmetric NAT, ALG, DHCP Server, Plug and play, auto software installation are supported. It has signal and power indicator as well. You can use standard 6 PIN SIM card in the device to connect the internet. It has built-in LTE/TD-SCDMA and WLAN antenna.
In 4G LTE mode, it can provide download speed up to 150 Mbps and upload speed limit is 50 Mbps. It has a microSD card slot and also micro-USB slot.
Dimensions of the device are 116.69 x 73.45 x 23.38 mm and weight is 235 gms including battery. You can operate this router with Windows Vista SP1/SP2, Windows 7, Windows 8, Windows 8.1, Windows 10, Mac OS X 10.7 or later versions.
Unlocking instructions and firmware update coming soon.
Download Huawei E5771h-937 Firmware Update 21.315.13.01.1133 Free (Saudi Arabia)
Download Huawei E5771h WebUI 17.100.14.03.1133 (Saudi Arabia OM)