Windows Update Service is turned on in Windows 10 by default, which is responsible for downloading and installing security and other patches regularly from the Microsoft server.
If in your PC, Windows Update has stopped working or not checking for updates regularly or fail in downloading the updates, the built-in Windows Update Troubleshooter will help you in resolving the issues.
The default Windows Update troubleshooter checks for the following issues:
1. Default Windows Update data location – It may be default download location of Windows Update has been changed. If it finds that the default location has been changed, the troubleshooter will automatically try to set the default one.
2. Potential Windows Update database error – If the tool finds any database error, it will try to fix automatically.
3. Windows Update components not configured properly – If Windows Update settings are not configured correctly, and Windows Update not working properly, then the troubleshooter will fix them automatically.
Windows Update troubleshooter is part of Windows 10. In case it in not working in your PC, you can download Windows Update troubleshooter by visiting this official link.
How to Run Windows Update troubleshooter in Windows 10?
1. Click on Start Orb and search for Control Panel by typing Control Panel in Start search then press Enter key to open the same.
2. Change the Control Panel "View By" to "Small icons" and then click Troubleshooting.
3. Click "View all" link from the left pane of Troubleshooting window.
4. Click "Windows Update" to launch Windows Update troubleshooter.
5. Click Next button to lauch the Windows Update troubleshooter.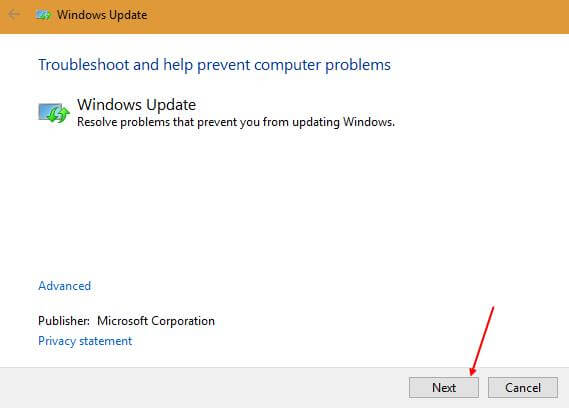 6. The Windows Update will check for errors, and no errors found then you can try with aministrator priviledge by clicking on "Try troubleshooting as an administrator" link.
7. It will again start checking the problems with administrative privilege and if problems will be found, you will have two options: "Apply this Fix" and "Skip this Fix".
8. Click on "Apply this fix" link to fix the problems.
9. Once the problem is fixed, it will show the results.
You can view details by click on the link labelled as "View detailed information".