Door Control is a freeware tool that supports the ejecting of DVD/CD tray using the hotkey. The Door Control is missing a feature, that is the closing of the tray using HotKey. WinEject is another shareware tiny program that claims to eject / close the DVD/CD tray with Hotkey.
Though we have tested the WinEject software in Windows 10 and it was not able to close the CD tray with a mouse click. However, ejecting of DVD tray is working fine. After installation of the WinEject tool, it sits in the system tray. It ejects the DVD tray when you click its icon in the Windows System Tray. According to the developer, this application closes the door – both manually and automatically, but I could not get this function working on my computer.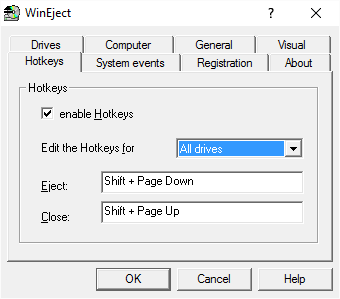 You can also set up Hotkeys to use for opening the DVD door. Unlike Door Control that gives you an option of selected keys only, you can select any hotkey of your choice in WinEject.
Open the Settings by right clicking on the System Tray icon of WinEject and then go to Hotkeys tab. Place the cursor into the hotkey selection textbox, and press the key combination you wish to use for ejecting the DVD. Then click OK and close the Settings dialog. After setting up the Hotkey, you can use it to open the CD/DVD door. You can also set up auto close CD door under Settings -> General. You just have to specify the number of seconds to wait before the door auto closes. You can download WinEject from here.