Since, the release of WordPress, developers has built too many social networking plugins. While Floating Social Bar plugin is too useful for putting at the bottom of the article, still I like "Social Sharing by Danny".
While, Social Sharing by Danny is limited to Twitter, Facebook and Google+, still it is useful and can be put at the bottom of the article. Most social sharing plugins are too ugly, heavy, complicated or poorly coded, but this plugin aims to be different; simple, lightweight and flexible.
The 'Social Sharing by Danny' plugin loads only two very small files to add icons and a pop-up functionality to the sharing links. This way, users do not have to leave your website after clicking a sharing option. Loading of both files can be disabled so you can craft your own styles.
The key features of "Social Sharing by Danny" plugin :
Sharing links for Twitter, Facebook, and Google+
Simple icon styles with a hover effect
A simple script of just 600 bytes (not jQuery dependent) which will make the links open in a pop-up window.
A shortcode and a template function to display the buttons anywhere you want.
An overridable filter to set the condition for when to display the sharing links.
Translation ready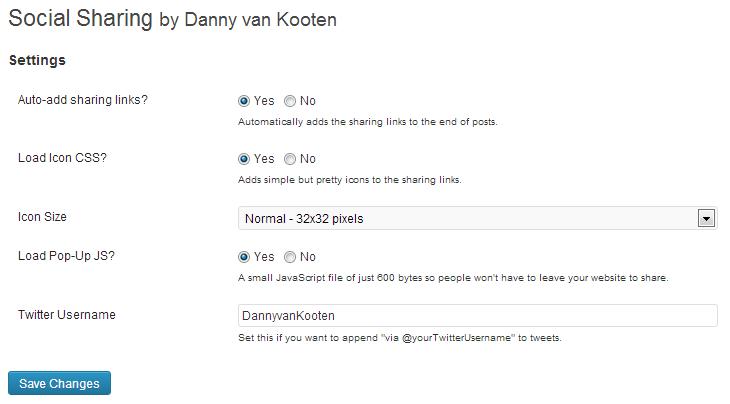 The Social Sharing by Danny plugin offers two preset fixed sizes of social networking buttons, 16×16 pixels, and 32×32 pixels. The plugin supports latest WordPress version 3.9.1.