There are various changes have been done in Windows 10, out of them, one of the most popular change is the redesigned start menu. Start menu / Metro Start was introduced with Windows 8, and now in Windows 10, Microsoft has improved its Start menu. You can say, Windows 10 Start menu is a mixture of start menu of Windows 7 and features of Windows 8.1.
One of the best features of the start menu of Windows 10 is the ability to pin apps, settings and more. Furthermore, the Windows 10 Start menu also allows you to pin your favorite and most commonly used websites.
If, the Microsoft Edge is your primary browser, then pinning of a website is a pretty simple task. Open the website you want to pin and select the three dots on the top right corner which will bring the menu options. In this menu select "Pin to start" option.
Once your favourite website is pinned to Start menu, you can rearrange it.
In case, Edge is not your primary browser, might you are using Chrome or FireFox, the process different. To pin a website using any other browser, go to desktop and right click and select New Shortcut.
Enter the URL of the website that you want to pin, and click next.
In the Next type the name for the shortcut.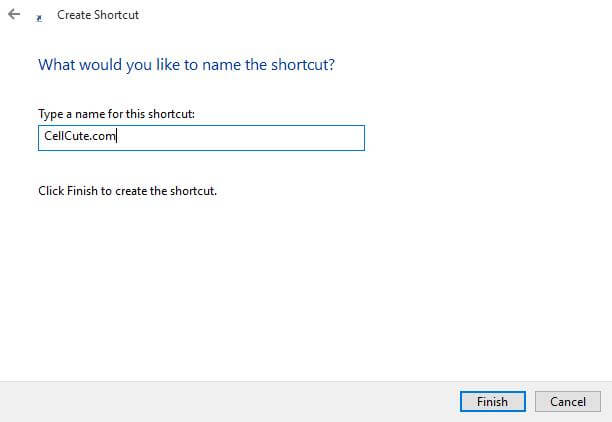 Click finish and you will see a shortcut created on the desktop, with your default browser. You can also drag a website from your browser to desktop for creating a shortcut.
Now open run command by simultaneously pressing Windows + R keys. Type the command:
shell:programs
Press enter from the keyboard to open the folder where the shortcut to start menu programs are located. Now copy the shortcut to this folder.
Once you have done this, open start menu and select "All apps". Search for the shortcut that you have created. Once you find a shortcut in the list, right-click and select Pin to start option. Now your website will be added to start menu.