If you have recently downloaded and installed Kaspersky Internet Security 2017 or Kaspersky Total Security 2017, along with it, you get a new software that is called Secure Connection. Kaspersky Secure Connection will get installed in your computer and will be available with "limited mode" only, and will offer only 200 MB of free traffic per day. If you exceed the limits, a notification will be shown to wait for few more hours for you to avail the service.
If you want to secure your internet connection, you need to purchase the licence to remove the limitations. You can do the same by purchasing a licence by visiting the Kaspersky Online Store that will cost you around 60 USD for a year.
While purchasing Kaspersky Secure Connection, you should know that it does not offer to purchase a licence for one PC. You have to pay for 5 PCs licence at least.
I paid for 5 PCs licence and purchased the Kaspersky Secure Connection and activated the same. It worked the whole day, while Next day again it came in limited connection mode. I contacted to support team, the customer care replied that it is due to regional governmental restrictions you might not be able to get unlimited traffic limit.
This is how Kaspersky team is cheating to people. While I was paying with Indian card, he should not allow to me to purchase the licence for Kaspersky Secure Connection. Once he allowed me to purchase the licence and activated the product, he should not remove the licence from this product without prior notification. Moreover, I was able to use it for one whole day without restriction, if the restriction is from the Indian government, then how he had allowed me for unlimited traffic for one day?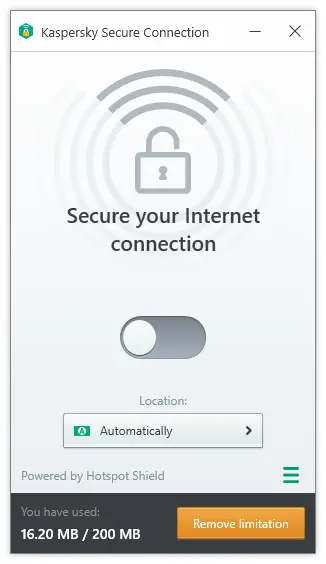 That's fine, no issues, before purchasing you clarify various things from the team.
Update: Finally, Kaspersky team has agreed to refund the money.
Kaspersky Secure Connection is a great option to hide your computer from bad eyes. The same services is offered from the Avast also, calls it Avast SecureLine.
If you want to use Kaspersky Secure Connection, just toggle Button ON from OFF, and you will be behind VPN, means your IP will be not visible to the internet.
In the free edition you can not change the VPN location, means it will automatically route through any country.
Why should you remove Kaspersky Secure Connection from your computer?
1. If you want to use Kaspersky Internet Security or Antivirus, but not interested in Kaspersky Secure Connection because of limited mode.
2. If you are running the trial version, and after completing the evaluation period, you want to uninstall Kaspersky, but Secure Connection will be left behind.
3. If you want to use any another VPN.
How to Uninstall Kaspersky Secure Connection?
1. If you are using Windows 10, then click on Start Button and type uninstall in the text box.
2. From the search results, click "Programs and Features".
3. It will open a new Window named as "Uninstall or change a program".
4. Select the "Kaspersky Secure Connection" and click "Uninstall/Change" button.