Iball has launched recently a 21 Mbps 3G USB 2.0 dongle, Airway 21.0MP-58. Iball offers 5GB cloud storage with Airway 21.0MP-58 WiFi modem. It is like Huawei LAPTOPI-FI E303FH dongle, can share internet using its WiFi powered software. Iball growing his market with different types of Gadgets. iBall Airway 21.0MP-58 is designed to enable users with access to High Speed Internet via HSPA+ / UMTS / EDGE / GPRS Networks , offers a maximum data transfer rate download to 21 Mbps & upload to 5.76 Mbps.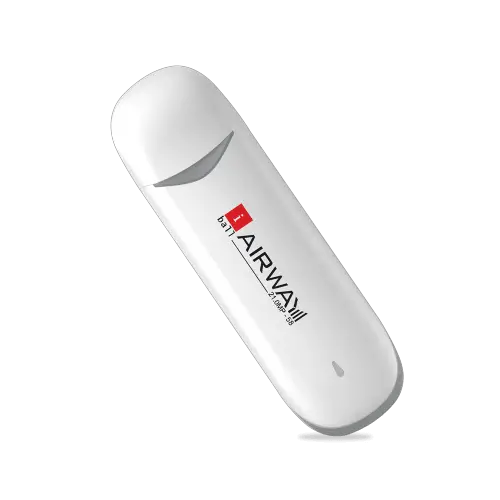 Free 5GB of Internet Cloud space is also bundled with iBall Airway 21.0MP-58 data card. Iball Airway 21.0MP-58 3G data-card is a normal 3G modem. In its hardware there is no Wi-Fi components is available. To able to work it as Wi-Fi dongle you need iBall Hotspot Utility, which can be downloaded from the download link which is provided at the end of the article. Download the Soft AP application to create your own Hotspot (Wi-Fi) Zone. The iball hotspot utility is supported with Win7 32-bit & 64-bit / Win8 32bit os.
The key features and specifications of Iball Airway 21.0MP-58 21 Mbps 3G WiFi Dongle :
1. Network Standards :
Data transmission up to 21Mbps (HSPA+)
Data transmission up to 5.76Mbps (HSUPA)
Data transmission up to 384kbps (UMTS)
Data transmission up to 237kbps (EDGE)
Data transmission up to 85.6kbps (GPRS)
2. Frequency Band :
HSDPA / UMTS: 2100Mhz
GSM /GPRS / EDGE: 850Mhz, 900Mhz, 1800Mhz and 1900Mhz
3. Power Class :
WCDMA – Power Class 3
GPRS 850/900 – Power Class 4
EDGE 850/900/1800/1900 – Power Class E2
4. External Interface :
UMTS/GSM Antenna – Built-in Antenna
USB Type – Standard USB Interface
USB Speed – USB 2.0 High Speed
SIM/USIM Card – Standard 6 PIN SIM card interface, compliant with 3GPP 31.101 and 31.102
5. Other features :
Drivers : Zero-CD Automatic installation
Languages Supported : English
iball PC Suite
With Voice Call, SMS, Phone-Book & USSD Services
6. Hardware Requirements : Minimum C.P.U 500MHz (Intel Platform), 512MB RAM, 40MB Free Disk Space, Standard USB 2.0 port
7. Dimensions (Size) : 86(D) x 26 (W) x 9(H) mm
8. LED Indicator :
Colour Flashing Cycle – Searching Network
Red Slow Flashing – Abnormal of (U)SIM card or no network
Luminous continuously – Data transmission
Green Colour – HSPA
Blue Colour – UMTS
Purple Colour – EDGE
Yellow Colour – GPRS
9. Operating Temperature : -10°c to 55°c
There is nothing to worry about Iball Airway 21.0MP-58 modem, since its online price is only Rs. 1500.
Download iBall Hotspot Utility iBall_Soft AP (Rev-1.1) (To use Iball Airway 21.0MP-58 dongle as WiFi Hotspot)