Along with Huawei EC176, EC177 3G CDMA data card is also listed in its official website, without any tag price, with same specifications and features.
The Huawei EC177 USB Stick is a wireless network terminal based on the CDMA2000 1x and the CDMA2000 1x EV-DO Rev. A network protocols. Along with messaging services, the EC177 dongle provides high-rate packet data services, supports wireless downloading at a speed as high as 3.1Mbit/s and uploading at speed as high as 1.8 Mbps.
The EC177 comes in USB form and supports USB v2.0, can be used in the CDMA2000 networks.
Measuring the EC177, dimension is 78.5mm x 26mm x 10.5mm (Height x Width x Depth), weighs about 25 gm.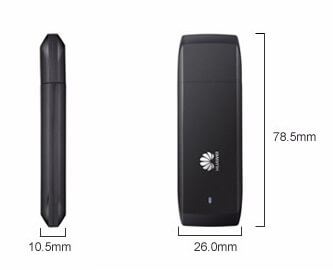 The EC177 supports 3G CDMA2000 1X EV-DO REV.A and 2G CDMA2000 1X RTT internet communication system, downlink 3.1 Mbps and uplink 1.8 Mbit/s.
The EC177 comes with a memory card slot, can be upgraded up to 16 GB using an external microSD card. The device comes with internal antenna supports receive diversity.
The EC177 can be operated in Windows 2000/XP/Vista/7 and Mac OS.
If you have un-customized firmware EC177 modem, then it can be unlocked using CDMA workshop tool.
The key features and specifications of EC177 :
High-rate network access
Standard USB interface, easy operation
Strong compatibility
Auto installation
Micro Secure Digital Memory (microSD) Card
Network Driver Interface Specification (NDIS)
800MHz/1900MHz frequency band
CDMA2000 1x standard
CDMA2000 1x EV-DO Rev. A standard
Supports receiving diversity
Supporting auto installing the management program
Supporting R-UIM/ROM-UIM
Supporting SMS
Supporting high-rate packet data services
Supporting extra large phonebook
Supporting Windows XP SP2/SP3, Windows Vista SP1/SP2, Windows 7;Mac OS X 10.5 and 10.6 , 10.7 with latest upgrades