Byond Tech BD001 USB 3G dongle is listed online in India with a price or Rs 2000, however, at the time of writing the article, it is out of stock.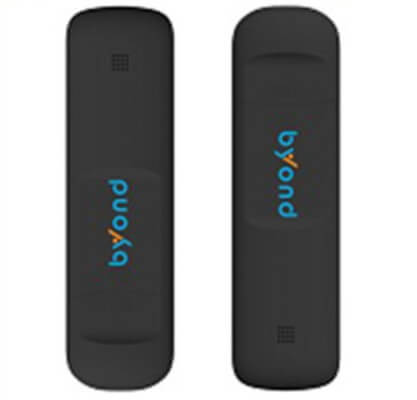 The Byond Tech BD001 is a USB dongle and available in black colour. According to the online retailer, the modem supports Windows 2000 (SP4), XP (SP2), Vista (SP1/SP7), Mac OS 10.4.9 to 10.6.0 (Only Support Intel Platform).
It features standard SIM card slot, and UMTS, GSM, EDGE, HSPA and GPRS networks are supported. The data card is able to provide download speed up to 7.2 Mbps in HSDPA network, and up to 5.76 Mbps upload speed in HSUPA network.
It is build for UMTS(3G) 2100 MHz and GSM (EDGE/GPRS) 850 MHz, 1800 MHz, 900 MHz, 1900 MHz operating frequency bands.
The Byond Tech BD001 sports a memory card slot, can be upgraded with up to 32 GB of an external microSD card. There is RGB LED is fitted on the adapter to provide the different status of the network.
The data-card supports USB 2.0, alongside NDIS Driver and voice calling features also. It comes with an internal antenna and software supports phonebook entry. It measures Width 45 mm x Height 9 mm x Depth 45 mm, while Weight is 30 gm.
The main features and specifications of Byond Tech BD001 :
Fast Upload at a Speed of Upto 5.76 Mbps
Fast Download at a Speed of Upto 7.2 Mbps
Plug and Play
Memory Card Support Upto 32 GB
Phonebook Support
SMS Support
HSPA/UMTS 2100 MHz
EDGE/GPRS/GSM 1900/1800/900/850 MHz