Intel powered Asus PadFone X Mini will be exclusively available in USA via AT&T network with no annual Contract for US $199.99.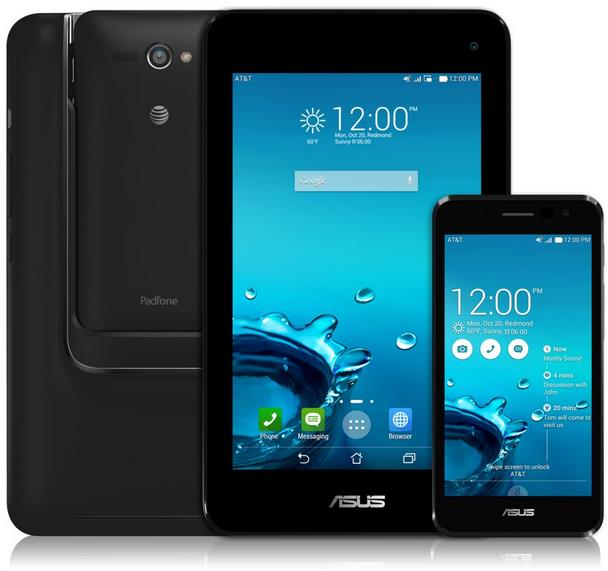 The new PadFone X Mini sports a 4.5-inch touchscreen display and comes powered by the Intel Atom processor and Intel XMM 7160 LTE modem. It is a smartphone, transforms into a 7-inch 4G LTE tablet-like experience when docked into its companion docking station. It will be available in AT&T retail stores on October 24 and in national retailers by November. The Asus PadFone X mini will retail for $199.99 on GoPhone, AT&T's branded prepaid service.
According to the Intel newsroom, plan starts at only $40 per month for 500 MB of data and 500 minutes of talk time.
"The PadFone X mini is a powerful device with great features from ASUS and Intel – and all on the nation's most reliable 4G LTE network," said Jeff Bradley, senior vice president – Device Marketing and Developer Services, AT&T. "Offered at budget-friendly prices, consumers that want a quality device with no annual contract will be thrilled with the performance and value of the PadFone X mini."
For ASUS, Corporate Vice President and General Manager of Mobile Communication, Benson Lin stated, "ASUS is passionate about providing incredible experiences. We are excited to work with AT&T and Intel to bring the ASUS PadFone X mini to the U.S. This unique device offers the compelling combination of a 4.5-inch LTE smartphone and the power and versatility of a 7-inch handheld tablet that allows people the best of both world experiences."
"The combination of Intel's processor and cutting-edge LTE solution gives the PadFone X mini a robust, one-two punch for U.S. consumers," said Hermann Eul, vice president and general manager of Intel's Mobile Communication Group. "People are demanding more from their devices, and the phone's unique smartphone and tablet form factor allows consumers to have more capabilities on one data plan, all at an affordable price. Intel, ASUS and AT&T have proven to be a powerful trio to deliver a fast and easy-to-use phone for on-the-go multi-taskers."
Notably, the PadFone X mini is the first smartphone for the U.S. market which is powered by an Intel application processor and an Intel LTE solution. The device has an Intel XMM 7160 LTE modem and an Intel Atom processor with Intel Hyper-Threading Technology, which supports four simultaneous application threads for smooth and seamless multitasking and responsive web browsing.
The Asus PadFone X Mini features automatic charging with up to 28.3 hours of battery life when the phone is docked into the station, and up to 15.8 hours of battery life on a single charge when used in the smartphone mode. It houses a 5-megapixel rear-facing camera for high-quality photos and videos.
The PadFone X Mini also features Dynamic Display technology that resizes apps for the different display sizes, as well as the ASUS ZenUI, an exclusive user interface for smart devices that includes features such as ASUS ZenUI What's Next and Do It Later. These new features put users' next task in front of them or allows them to mark items for follow-up.
The Side Flip Cover and TriCover, a stylish and practical cover lined with microfiber with a tough polyurethane outer cover for the phone and docking station that helps prevent scratches, scrapes, and dents in two different landscape orientations.