Oppo N1 is an Android smartphone, unveiled on 23 September 2013 and released on 10 December 2013. While some models ships with Oppo's ColorOS software, the N1 is be the first Android device to offer an official version of the popular aftermarket Android distribution CyanogenMod as pre-loaded software (CyanogenMod Edition was released on 24 December 2013). Oppo N1 boasts quad-core, 1.7 GHz Qualcomm Snapdragon 600 processor with 2 GB of RAM, with either 16 or 32 GB of internal storage, and uses a 5.9-inch 1080x1920p IPS display.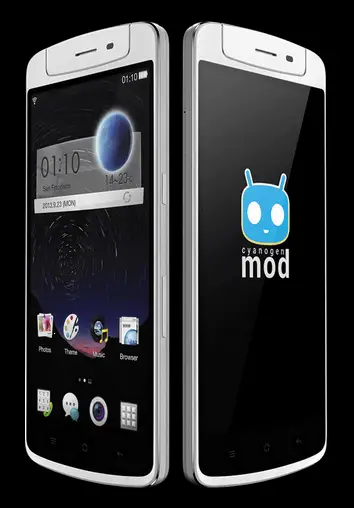 The rear cover of the device features an "O-Touch" touchpad, which can be used for scrolling and navigation—the company claimed that this feature would help with one-handed usage. It also includes a 13 megapixel camera, the camera itself can be swiveled up to 206 degrees, allowing it to be used as either a front-facing or rear-facing camera. Oppo N1 is world's first rotating camera Android Smartphone, however there is no front Camera available in N1.N1 is the first Android smartphone to use six physical lenses, giving you a clearer image while eliminating any distortion. The latest generation stacked CMOS sensor, upgraded type 1/3.06 imaging module and f/2.0 wide aperture.
The N1 is available with two variants of Android; a version of Android 4.2 with Oppo's custom ColorOS overlay, and a limited edition pre-loaded with version 10.2 of the popular aftermarket Android distribution CyanogenMod, a variant of the AOSP version of Android 4.3. CyanogenMod builds for the N1 will implement native support for all of the N1's hardware features, and is the first ever build of CyanogenMod to be certified under Google's compatibility standards for Android, allowing it to be pre-loaded with Google Play.
The key features and specifications of Oppo N1 Smart Phone :
1. Dimensions : 170.70 x 82.60 x 9.00mm
2. Weight : 213 gm
3. Form Factor : Capacitive Touchscreen
4. Display : 5.90-inch
5. Processor : 1.7 GHz
6. Resolution : 1080×1920 pixels
7. RAM : 2 GB
8. Operating System : Android 4.2
9. Camera : 13-megapixel front (No rear Camera)
10. Storage : 16GB
11. Battery : 3610mAh (not removable)
12. Other features : Wi-Fi 802.11 b/ g/ n, WiFi direct, NFC, GPS, Bluetooth 4.0, Headphone jack 3.5mm
13. Sensors : Proximity, Accelerometer, Ambient light sensor, Gyroscope sensor
Oppo N1 has officially launched in Indian Market at Price of Rs.39,999 in January in an event at New Delhi, however after a cut it is available online in Rs. 36990.
The Oppo N1 single SIM 3G touchscreen phone powered with a fixed 3610mAh battery. O-Click lets you remotely operate the N1 camera even when you're away from the device.