iBall's 3.5GH-72 modem, also known as airway 3.5GH-72, now available via e-commerce online website homeshop18 at Rs 1,499. Notably, in manufacturer website, airway 3.5GH-72 listed with a tag price of Rs. 1,599.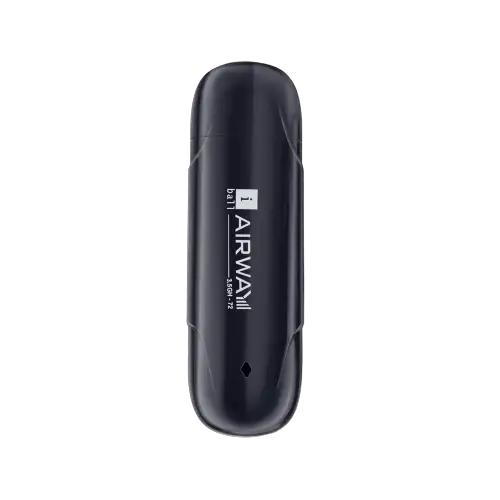 According to manufacturer's official website, iBall Airway 3.5GH-72 Wireless USB Modem is designed to transmit / receive data at a maximum speed of 7.2Mbps / 5.76Mbps & its dependent on service provider network. The iBall also offers, free 5GB of Internet Cloud space, to backup, sync & share data, audio, video & much more.
Features and Specifications
iBall airway 3.5GH-72 dongle supports 3G network, and in different network, you will get different data transmission speed; 7.2Mbps – HSDPA, 5.76Mbps – HSUPA, 384kbps – UMTS, 237kbps – EDGE, 85.6kbps – GPRS.
The data-card supports; HSDPA / UMTS 2100Mhz and GSM /GPRS / EDGE 850Mhz, 900Mhz, 1800Mhz and 1900Mhz bands.
The airway 3.5GH-72 sports a built-in antenna and standard USB 2.0 interface.
The device has a standard 6 PIN SIM card interface, compliant with 3GPP 31.101 and 31.102. The device comes with a virtual CD-ROM. Just plug the data card to PC and it will automatically install correct drivers in the PC and enjoy the broadband speed. With the help of PC suite you can make a Voice Call. SMS, Phone-book & USSD Service are another features of this phone.
To able to use airway 3.5H-72, you need minimum C.P.U 500Mhz (Intel Platform), 512Mb Ram, 40Mb free disk space and standard USB 2.0 port configure PC / laptop.
iBall airway 3.5GH-72 dongle dimension is 87.5(D) x 26 (W) x 9.3mm(H), but no word about weight. The device sports a LED light indicator, to indicate different network signals. Red Colour has been configured for hardware & network initialization, Purple indicates 2G (GPRS/ EDGE) network and blue means 3G.
The iBall airway is configured to work on -10c to 55c temperature.
The key features and specs of iBall airway 3.5GH-72 data-card :
Compatible with 2G/3G GSM Network
High speed data transmit rate with Download up to 7.2Mbps & Upload 5.76Mbps
Plug and Play
Micro SD card slot – Max. up to 32GB support
Voice Call
SMS
PhoneBook
USSD Service
Internal Antenna
USB 2.0 interface
OS Compatible: Win xp, Vista / Win 7 / Win 8 & MAC OS 10.8.2 (Intel Platform)
iBall airway 3.5GH-72 modem boasts a microSD card also, up to 32 GB memory card can be used. The dongle perform well at Win xp, Vista / Win 7 / Win 8 and MAC OS 10.8.2 (Intel Platform) operating systems.
You can download the latest version iBall PC software for your airway 3.5GH-72 data card to make a call.
Reviews
Although iBall airway 3.5GH-72 modem comes unlocked and there is no need to unlock using code, however I prefer Huawei make dongle, because the manufacture keeps updating his software to make it compatible to the latest OS.