Huawei TalkBand B1 is world's first hybrid smart band, which is fully supported by Huawei MediaPad M1 8.0 4G Tablet. It connects your wrist to your smartphone so you can stay updated with all of the information you need about your daily life with just a quick glance. Huawei TalkBand B1 is a Bluetooth 4.1 headset , which comes with NFC fast pairing to connect to other devices with ease. Dual-mic noise reduction feature eliminates background sound and make sure your calls are crystal clear. You can get over 7 hours of talk time, caller ID and number display using Talkband B1.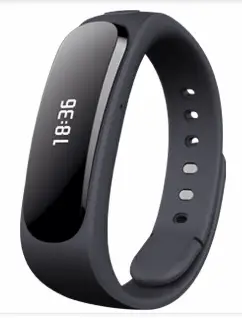 1.4″ Film OLED Technology, the Smart Band will captivate you with its brilliantly sharp display. It is extremely thin and light, only 0.3 mm wide while weighing only 1 gram. Its bendable curve design fits your wrist like a second skin.
Water Resistant and Dust Proof
Huawei TalkBand B1 impressive battery performance can last for up to 6 days with only a 2-hour charge. Which means you can spend less time charging and more time keeping track of everything important in your life.
The main features and specifications of Huawei TalkBand B1 :
1. Dimension :
Height : 200 mm(Adjustable)
Width : 17mm
Depth : 10.5mm
2. Weight : 15 gm (earphone), 20 gm (band)
3. Connection : BT 4.1
4. Battery : 93 mAh (earphone)
5. Screen : Futaba 1.4 inch OLED
6. Working Time : 6 days(depends on wireless call time)
7. Standby Time : >30 days (BT connection off)
8. Charging Time : <2h
9. Buttons : Power on/off, Sports state, pick up call
10. Interface : USB Charging contactor
11. Sensors : G-sensor
12. Compatible OS : Android
Its price is 99 EURO, in Indian currency it will be appx. Rs. 8000/-. If you want to enjoy your tablets hands-free then it is right choice for you.