Easha Khare, a 18 years old, Indian origin girl, staying in California, has invented a revolutionary super-capacitor device that can charge a mobile phone in 20 seconds. Eesha Khare was awarded the Young Scientist Award by the Intel Foundation after developing the tiny device that fits inside mobile phone batteries, that could allow them to charge within 20-30 seconds. An average cellphone can take at-least 6 to 7 hours to get fully charged. But now, a breakthrough by an 18-year-old science student might enable mobile phones and other batteries to be charged within seconds in a few year.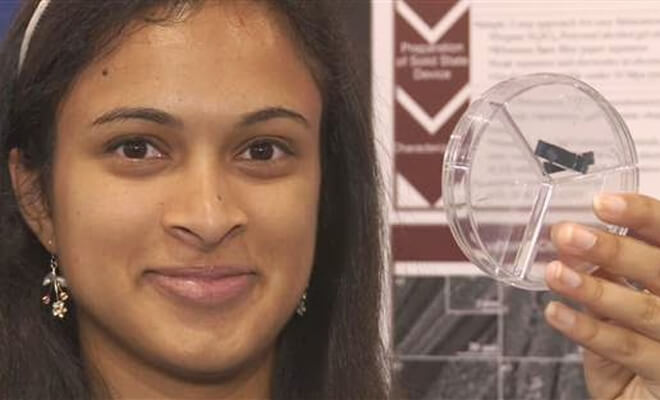 This power-storage super-capacitor gizmo  gadget is able to dispense 10,000 recharge cycles, which is practically 10 times the performance of conventional batteries. It comes in a tiny package that can hold power load for a much longer time, too.
When asked by NBC news,what was her inspiration in doing the power storage technology, Khare told "My cellphone battery always dies". Her interest in nano-chemistry eventually led to this brilliant discovery.
Video's of Eesha Khare prize ceremony :
Now future of tablet and smartphone is going to be more brighter with this super-capacitor power bank.