Yesterday, I have shared article to Unlock DORO 345, DORO 409, DORO 409s, DORO 410, DORO 410s, DORO 610, DORO 610s Phones Free. Today, i am sharing with you unlock code calculator tool for SFR 132 phone and SFR 151 phone. There are two separate download link has been provided at the end of the article for both SFR 151 and 132 unlock code calculator tool.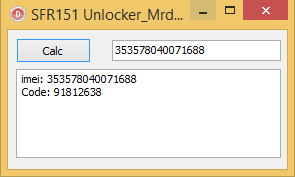 To calculate the unlock code of SFR 132 and SFR 151 Phone, just go to the end of the article, download the correct unlock code calculator for your SFR phone. After downloading the correct tool, extract it in a folder. Now double click to launch the tool. Now replace the 15 digit IMEI code with your 15 digit IMEI code of your SFR phone and click on Calc. Now you will see code below the IMEI as in screenshot. This is offline freeware calculator and there is no limit to generate the unlock code.
If you don't know the IMEI of your phone, then switch it ON and type *06# on the screen and press call / send menu. Now you will see 15 digit IMEI of your phone.
How to unlock SFR132 and SFR151 phone free :
Generate the correct NCK code / unlock code as instructed above.
Now put un-acceptable sim in your Phone and switch ON the SFR phone.
Now it will ask your NP / NCK / Unlock code.
Put the correct unlock code and your phone will be unlocked forever.
If your SFR phone does not prompt for unlock code then remove SIM card from mobile phone.
Switch ON the Phone WITHOUT SIM Card
Now dial : *983*8284# or ###825*09#, in your dial pad.
Now it will prompt for unlock code.
Enter NCK code and press ok.
Now your phone is unlocked forever.