Capitel is another modem manufacturer like Clublaptop. Capitel's latest flagship dongle, CWU 720 is available via e-commerce online websites in India at Rs 1200, though the same is listed in its official website with a tag price Rs 3499.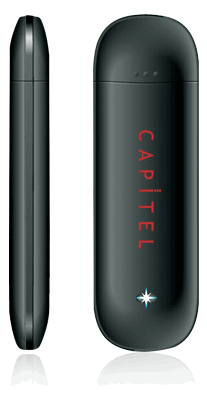 According to the official website of Capitel, the CWU 720 is a wireless DSL-Iike modem, can provide highest download speed up to 7.2 Mbps or upload with a speed of 5.76 Mbps.
CWU 720 comes factory unlocked and there is no need to unlock it for use with any network provider sim. You can enjoy worldwide connectivity with Multi-standard (HSUPA, HSDPA, UMTS, EDGE and GPRS) and Multi-band support.
Plug'n play with Zero-CDTM technology and connect to internet. The Capitel CWU 720 Data Card features SMS, Phone Book and voice calling also.
It supports worldwide coverage through triple-band HSUPA, HSDPA I UMTS, quad-band EDGE / GSM; multimode HSUPA, HSDPA / U MTS / EDGE / GPRS / GSM card.
The CWU 720 provides HSUPA, HSDPA and UMTS High-speed data (up to 7.2 Mbps) connectivity for mobile users and EDGE / GPRS I GSM data connectivity.
The CWU 720 modem can switch automatically between UMTS and GSM / EDGE networks. The USB dongle comes with a memory card slot also, upgradable up to 16 GB via an external memory card.
Windows XP SP2 / VISTA/windows 7 and Mac OS X 10.5 or higher (only support INTEL platform) are supported by Capitel CWU 720 dongle.
The main features and specifications of CWU 720 :
Supports 16 GB MicroSD Card
Plug and Auto Installation
USB Dongle
Support 2G/3G SIM
Voice Support
Support 7.2 Mbps HSDPA
Support SMS and Phonebook