Huawei is a huge manufacturer of routers and provides the devices worldwide, locked to a particular network. Recently, the company has launched B190 LTE Wireless Gateway locked to 3 (Three) network of Austria.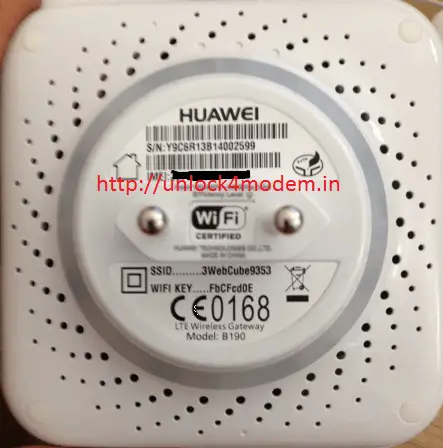 Huawei, the manufacturer of B190 router has put the different algorithm in this device and can not be unlocked using normal WiFi unlock code.
How long we need to wait for a Huawei unlock code?
The approximate delivery time for a Huawei unlock code is 1 to 10 days.
The average response time for a Huawei unlock code is 2 days (based on last 100 orders).
How to Unlock Huawei B190 3 (Three) Network LTE Wireless Gateway of Austria?
1. Change the default sim with another network provider (other than 3 network of Austria).
2. Plug the B190 to PC using its default LAN cable.
3. Open the default internet explorer from PC.
4. Browse 192.168.0.1 (it may be different for your device, check before proceeding).
5. It will display "Invalid SIM" because you have used another network providers sim.
6. The B190 may ask you login details (put admin as both places, username, and password, if not working then see the manual of your gateway).
7. Login to your dashboard of the B190 device and go to its WebUI settings.
8. Proceed to Advanced Settings – SIM Settings – Unlock Device – Enter Unlock Code – Click on Apply.
Now, your device is successfully unlocked.
If your B190 router comes with LAN cable, then you can use FMC unlock tool also to enter the unlock code into the device.