As you know that Huawei keeps launching different types of modems and routers in the world with the help of network companies. Recently, In Italy, Huawei has launched E3351 modem with the help of H3G network. Like another Huawei modems and routers, Huawei H3G E3351 (E3351s-2) Italy broadband dongle can also be unlocked with correct SIMlock code. It comes with un-customized firmware and there is no need to flash the firmware. Recently, I had also unlocked Huawei E8258 (E8258Ws-2) H3G WiFi Wingle, Hutchison 3G (H3G) UK & Austria E5756 (E5756s-2) WiFi router, H3G E5172 (E5172s-22) Sweden LTE CPE Huawei WiFi router, and Web Cube 21.6 Huawei E8238 (E8238BWs-2) Whit Key Internet (H3G Italy) router.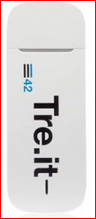 How to Unlock Huawei H3G E3351 (E3351s-2) Italy Broadband Dongle?
1. Download Huawei H3G E3351 (E3351s-2) Italy broadband dongle unlocker software (Cardlock Unlock Tool).
2. Now change the default SIM with any another network provider and plug the Huawei H3G E3351s-2 dongle to Windows PC.
3. Disconnect the internet (if already connected) and close the software of data card.
4. Now open the downloaded unlocking software.
5. Detect the datacard under the unlocking software.
6. Put 8-digit correct unlock code into the unlocking tool and click on unlock button.
7. Now your Huawei H3G E3351s-2 broadband dongle of Italy is unlocked forever.
8. Create a new profile in E3351s-2 dongle and enjoy the internet.
Note: Don't enter any free or wrong code into your Huawei H3G E3351 (E3351s-2) Italy broadband dongle, otherwise it will be locked permanently. Either purchase from any server or pay 2.38 USD through PayPal button and mention model with IMEI in the transaction.