Airtel and Idea, both had launched E5573s-606 in India. Airtel locked E5573 router carries firmware version 21.180.17.01.284 and can be unlocked easily. Newer version firmware 21.315.xx.xx by Airtel and Idea device firmware version 21.200.xx.xx cannot be unlocked easily, means you have to take the help of boot shot since it gives error 19 during the firmware update.
Note: There is a special software available for Airtel E5573cs-609 router, there is no need to open the screws of the device. It will be unlocked directly. The charge will be Rs. 600 only.
Now in the Indian market, there is no more E5573s-606 modems are available. Both the firms, Airtel, and Idea have launched E5573cs-609 router. Airtel locked E5573cs-609 device carries firmware 21.318.09.00.284 and WebUI 17.100.15.01.284, while Idea locked router comes with WebUI version 17.100.15.01.356.
Both devices are running with higher firmware and while changing the firmware, either it gives error 19 or asks for a data-lock code, means in both situation you can unlock it.
In unlocking, there is a bin file and two firmware are involved.
Externally Huawei E5573cs-609 and E5573cs-606 look similar, but inside the device, there is a difference between chipset.
How to Unlock Huawei E5573cs-609 MiFi Router locked to Airtel and Idea?
Before proceeding with steps, switch on the E5573cs-609 MiFi router and connect to your PC with USB cable. Open My Computer > Virtual CD-ROM. Install on the PC. It will automatically open the default page of the router.
Now process with further steps.
1. Download the E5573cs-609 USB loader file (will be shared with only paid users).
2. Dismantle or unscrew the device.
3. Let the battery inside the device and switch off the router.
4. Connect USB cable to the router.
5. Touch the boot pin and ground of the board from any metal/wire as shown in above image.
6. From the other hand, insert USB cable another end to PC.
7. It will produce a sound and you will see something is installing on your device.
8. Remove the metal/wire from the board.
9. Now download Balong tool.
10. Install the latest "Huawei mobile partner" on your computer.
11. Run Balong tool.
12. Click "Detect" button. It will show COM Port with "BOOT_3G".
13. Locate the "Loader" file which you have got in the email.
14. Click on "Load".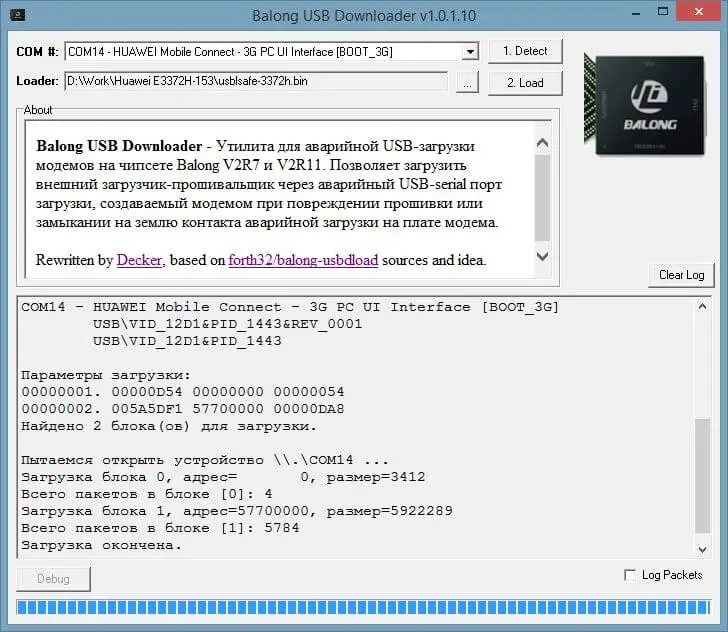 15. Once progress bar reaches the end, you will again notice something is installing on your PC.
Note: You can check in COM ports, you will see two Huawei ports.
16. Close the USB Balong tool now.
17. Now download E5573cs-322 firmware version 21.318.99.03.00.
18. Run the Exe file and update your device.
Now pay Rs. 500 through payumoney (For international people charge is 10 USD per unlock) and mention details, I will contact you through email and will do the rest of procedure remotely.
To add APN in E5573, refer to this video:
Update: MTN Nigeria is also providing Huawei E5573cs-322 router that can be unlocked without opening the screws. It comes with firmware version 21.318.03.01.200.
Update II: Those Airtel E5573cs-609 users who don't want to erase NV-RAM and does not want to open the screws of the device, for them also the solution is available. The charge is Rs. 600.
Update III: Unlimited unlocking license of MTN Huawei E5573cs-322 and Airtel E5573cs-609 are also available for Rs. 8000 or 120USD. There is no need to open the screws.