Along with ZTE AW3632, the manufacture has listed ZTE Swift MF197 Modem in Indian official website. The broadband dongle is available in India via e-commerce online website flipkart at Rs 1322.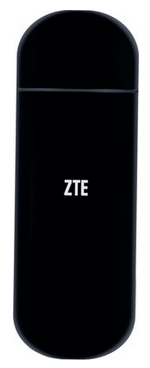 The Swift MF197 supports HSPA and the modem comes in USB form. Its highest download speed in HSDPA network up to 14.4 Mbps, or able to upload a file up to 5.76 Mbps in HSUPA network.
The Swift MF197 supports Windows XP, Windows Vista, Windows 7, Windows 8, Mac OS 10.4 or higher and Linux operating system, but lack of Windows 8 supports.
You can put a 3G or 2G normal SIM in its 6 Pin SIM Card Interface to enjoy the internet through WebUI, since the dongle does not support traditional connection manager.
The ZTE MF197 is supports GSM, GPRS, EDGE, UMTS and HSDPA networks. The devices boasts with WCDMA/HSDPA 900/1900/2100MHz and GSM/GPRS/EDGE 850MHz/900 MHz/1800MHz/900MHz bands.
However, there is a lock of Windows 8 OS support, but the ZTE MF197 Swift data-card features a microSD card slot, can be upgraded up to 32 GB via an external memory card.
Measuring the ZTE Swift MF197, dimension is 88.5 * 27.2 * 10.5 mm and weighs 21 gm.
The Swift MF197 sports a MDM6200 Chipset, alongside ARM11 processor, runs up to 480 MHz of speed. The device operating temperature is -10 Deg C to 60 Deg C; and can be stored at -40 Deg C to 80 Deg C with 5 % to 95 % operating humidity.
The main features and specifications of ZTE Swift MF197 Data Card :
Support 14.4 Mbps HSDPA services
Supports Web UI
IPV6 Redy
Internal Antenna
HSDPA and HSUPA Support
SMS Support
2G/3G Support
USB Dongle
In my reviews, this ZTE's product if good in Rs 1322, and recommended for purchase.