Launched in September 2014, Huawei Mobile WiFi Prime E5878 got the fame of world's thinnest LTE mobile WiFi. It delivers download speeds of up to 150 Mbps and upload speed of up to 50Mbps. The router can connect up to 10 devices in its WiFi mode.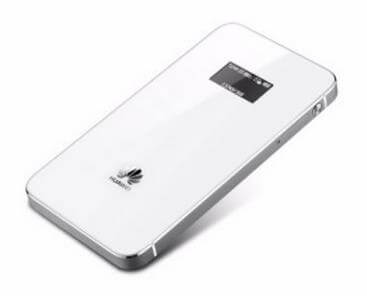 "Huawei Prime features a new minimalist design to make it the latest must-have fashion statement for style conscious young social networkers and tech lovers," said Liang Qinghai, Senior Industrial Designer, Mobile Broadband and Home Devices, Huawei Consumer Business Group. "As a leader in mobile broadband, delivering next-generation LTE networks, Huawei has launched a new chapter in the mobile broadband landscape with Huawei Prime's outstanding design language. It is the perfect companion to keep you connected in style."
The Huawei Mobile WiFi Prime E5878 comes with Nano Molding Technology (NMT), which combines metal with polymer into a seamless material. It is slimmer than any other 4G mobile WiFi hotspots on the market at 7.5mm. It is 109.5mm long and 58mm wide.
Huawei Prime's elegant and refined look is the result of detailed craftsmanship and superior-grade aluminum materials. It also incorporates symmetrical dual lenses for its OLED screen, which in addition to being scratch and crack resistant, are integrated seamlessly with the metal to present a dazzling, polished feel.
Huawei Prime features 'press and play' functionality from a five second start up. By connecting to WiFi with Huawei Prime, you can enjoy wireless connectivity for up to 10 WiFi-enabled devices at once with a range of 100 meters. Its minimalist 0.96-inch OLED screen displays how many devices it is connected to, how many text messages have been sent or received, and most importantly, how much data has been used while connected to ensure data allowance is not exceeded. It also comes with a handy full micro-USB cable slot tucked into the lower bottom right corner which can be used to connect the hotspot to a PC as a modem or storage device.
The Huawei Prime E5878 powered by a HiSilicon A9 dual-core chipset and provides lightning fast LTE Cat4 connectivity with download speed of 150 Mbps. It even includes two antennas, one on each end of the device, to ensure the strength of the connection is maintained.
Once 1900mAH battery of Huawei Prime fully charged, it able to stay online for up to 8 hours of use in LTE mode or 380 hours of standby time. All of these features can be controlled remotely by a smartphone using the 'Huawei Mobile WiFi' application available to download via major app stores.
Huawei Prime comes in white and black, and will be available in Europe, Middle East, and other markets. Customized versions including sunny gold, peach pink or turquoise green, with polka dot or diamond texture effects, will also be available in selected markets.
Recently, EE carrier of UK has launched Huawei Prime E5878, which can be unlocked using correct NCK code to use it with any another SIM too. For more details refer this article.
Source