Wise Registry Cleaner is a freeware tool that lets you clean registry junks, repair Windows errors, and keeps your PC at peak performance.
The Windows registry keeps growing when you use Windows, and the obsolete items get accumulated in the registry, which eventually lead to performance degradation and even system crash. Wise Registry Cleaner incidentally scans the Windows registry and finds errors & residual items in the registry and then cleans or defrags them. By fixing these residual and corrupted items in Windows registry, your system will run faster and more stable.
The Wise Registry Cleaner automatically backed up the Registry before any cleaning is performed. You can use it to restore the registry to the previous point, in case you encounter some system problem. You can also create a full registry backup or system backup manually with this freeware at any time before making any major system or network configuration changes on your PC.
Also when you run this software for the first time, it offers you create a registry backup.
From the main interface, you can set Wise Registry Cleaner to clean the registry on a daily, weekly, monthly, on idle or at log on, schedule according to your own need. Wise Registry Cleaner will automatically clean up the registry in the background when the scheduled time is up.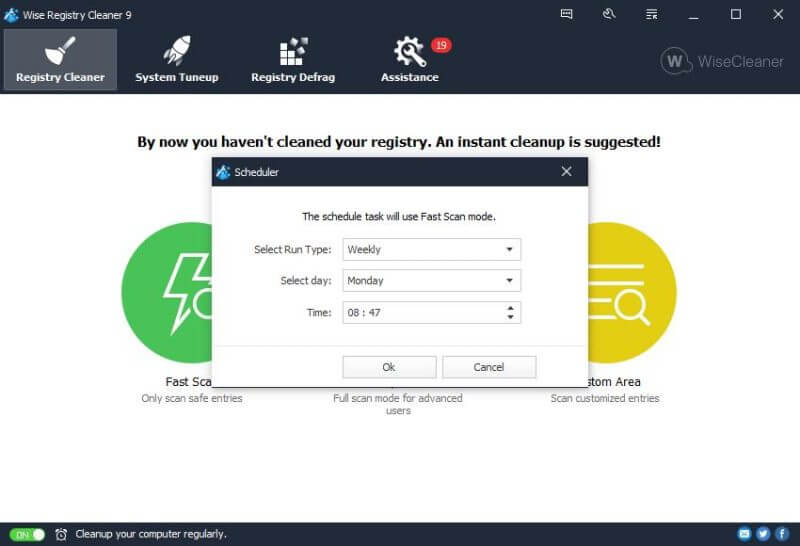 From the settings, you can also create a 'Clean with 1-click' icon and place it on the desktop. With this feature, you can clean up the registry by just clicking the icon without opening Wise Registry Cleaner.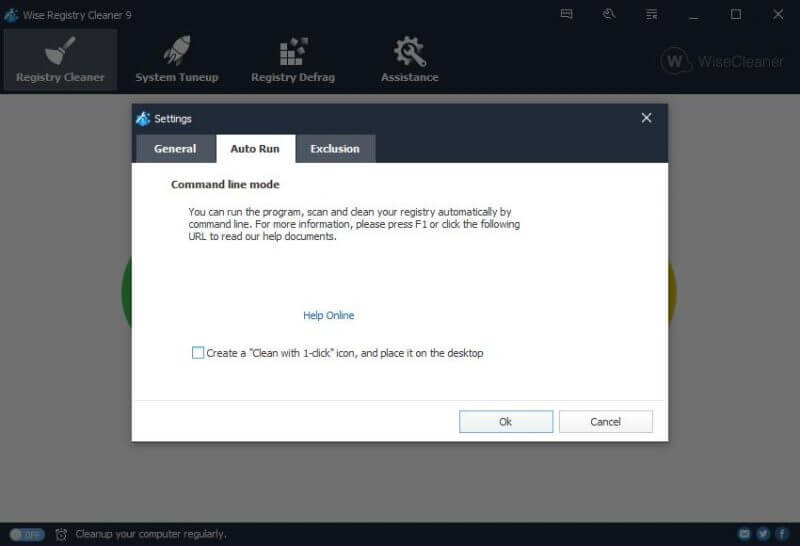 Other than cleaning up and defragging the windows registry, the Wise Registry Cleaner can also optimize relevant system settings to improve both system speed and internet speed. After one-click optimization, you will notice some improvement in your PC's performance.
In the main screen of Wise Registry Cleaner, you can find three types of scanning: fast, deep and custom scan. In 'fast scan', the tool will remove only those entries which are safe to delete. The "Deep Scan" is for advanced users and will scan your whole system registry files. In custom, you can specify, which you want to scan and which you want to exclude.
Custom areas of the registry can be scanned for things such as invalid file extensions, obsolete startup program entries, invalid software paths, and more.
Exclusions are allowed, so you can tell Wise Registry Cleaner to avoid cleaning any registry items with specific words in them.
Apart from the above cleaning and defragging the registry, it can optimize the following:
1. Optimize prefetch parameters to improve Windows boot-up speed.
2. Reduce application idleness at closing to improve the shutdown process.
3. Disable cleaning Windows Paging File at shutdown to speed up shutdown.
4. Enable optimization future to improve Windows boot-up speed.
5. Disable automatic reboot when the system encounters blue screen of death.
6. Disable registry modification from a remote computer.
7. Set Windows Explorer components to run in separate processes avoiding system conflicts.
8. Automatically restart the Windows Explorer to stop an unexpected desktop disappearing.
9. Close frozen processes to avoid system crashes.
10. Optimize refresh policy of Windows file list.
11. Speed up display speed of Taskbar Windows Previews.
12. Speed up Aero Snap to make thumbnail display faster.
13. An optimized response speed of system display.
14. Increase system icon cache and speed up desktop display.
15. Boost the response speed of foreground programs.
16. Boost the display speed of Aero Peek.
17. Disable memory pagination and reduce disk I/O to improve performance.
18. Optimize processor performance for execution of applications, games, etc.
19. Close animation effect when maximizing or minimizing a Windows to speed up the Windows response.
20. Optimize disk I/O while CPU is idle.
21. Disable the "Autoplay" feature on drives to avoid virus infection/propagation.
22. Optimize disk I/O subsystem to improve system performance.
23. Optimize the file system to improve system performance.
24. Optimize front-end components (dialog box, menus, etc.) appearance to improve system performance.
25.Optimize memory default settings to improve system performance.
26. Disable the debugger to speed up error processing.
27. Disable screen error reporting to improve system performance.
28. Optimize LAN connection.
29. Optimize DNS and DNS parsing speed.
30. Increased max connections per server. Web page viewing speed and online video watching speed enhanced.
31. Optimize Ethernet card performance.
32. Optimize network forward ability to improve network performance.
33. Optimize WINS name query time to improve data transfer speed.
34. Improve TCP / IP performance through automatic detection of "black holes" in routing at Path MTU Discovery technique.
35. Optimize TTL (Time to Live) settings to improve network performance.
Wise Registry Cleaner keeps your PC at the top of performance by tweaking various options.