Hidden Disk is a freeware tool that lets you create a virtual drive on your Windows PC, that can be protected with a password. Wise Folder Hider is also a free software, but unlike creating a new virtual disk, it lets you simply hide your private files, folders, photos, and videos. By default Windows 10 does not let you lock, protect or hide folders and files.
Wise Folder Hider password-protect your folders and files and does now allow to view or modify without the correct password. It provides enhanced security for files and folders on your Windows PC and blocks the unauthorized access of your private files / folders.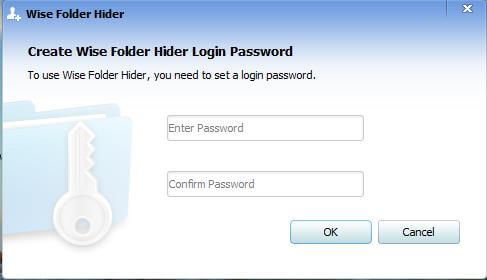 Once you install the Wise Folder Hider, when you will launch you it for the first time, you need to set up a password. This will be the master password to use this freeware app. Once you have set the password, the main interface of the software will be displayed and here you can add files, folders and also USB drives to hide.
Added files / folders / USB drive into the app, it will be hidden from the file explorer. You can also add an additional lock to the file or folder with a password.
Once you want to unhide the folder in the future, you need to put master password as well as lock password the particular file, then it will be opened.
The app also adds itself into the context menu of Windows, so you can easily hide files / folders by right-clicking and selecting the "Hide File with Wise Folder Hider" option.
The app is compatible with both 64-bit and 32-bit operating systems, including Windows XP, Vista, and Win7/8/10.
Overall, Wise Folder Hider is a good app and you can download it from here.