Winknet is another modem provider, 3G Data Card of the manufacturer, MF50 has got listed online in India. However, at the time of writing the article, the device is out-of-stock. It is basically ZTE MF50.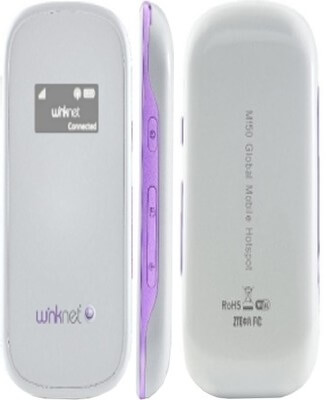 According to the online listing, Winknet MF50 is a 3G dongle, in HSDPA network downlink up to 14.4 Mbps and in HSUPA maximum speed up to 5.76 Mbps. According to the flipkart reseller, the device supports EDGE, GPRS, GSM, HSPA, HSDPA, WCDMA, UMTS and HSUPA networks.
The Winknet MF50 can be operated in Windows: XP, Vista, 7 and Mac OS X v10.5 operating system. The data-card comes in USB form, supports USB v2.0.
The MF50 sports a Standard 6-pin SIM Card Interface; features UMTS(3G) 2100 MHz and GSM (EDGE/GPRS) 1900 MHz, 1800 MHz bandwidth.
The MF50 boasts a memory card slot, can be upgraded up to 32 GB via an external microSD card. It has built in LED indicator, to indicate Signal Strength, Roam Status, Wi-Fi Battery, WAN Connection Mode and Status, SPN.
The MF50 does not support voice call, but comes with internal antenna and a powerful 1500 mAh battery. According to my knowledge, it is first USB adaptor, which comes with battery.
The Winknet MF50 is a plug and play device, bears Phone Book and SMS featured software.
Auto APN Matching with USIM, APN Synchronization, WI-Fi Security WPA/WPA2, Built in DHCP Server, DNS Relay and NAT, Built-in WCDMA and WLAN High Gain Antenna, Rx Diversity, Upto 10 Users Access Simultaneously, Higher Spectrum Efficiency, Chipset: Qualcomm, GSM CS: 9.6 Kbps UL, 9.6 Kbps DL, WCDMA CS: 64 Kbps UL, 64 Kbps DL, WCDMA PS: UL 384 Kbps, 384 Kbps DL, IEEE 802.11b/g/n, Supports Port Forwarding, Supports IP Filter, Supports DMZ, Supports UPnP, VPN Traversal: PP2P, L2TP, IPSec, Wi-Fi Control: Open and Closed, WPS: Push Button Forwarding, Naming Service: DNS Relay for LAN Side Clients, Support Domain Name Field, Firewall Switch: Enable Firewall, IP Address Filter and Disable One Port Ping are additional features of this Winknet's MF50 data-card.
Measuring the MF50, dimension 51.8 x 13.65 x 101.8 mm (WxHxD), weighs 80gm.
The key specs of Winknet MF50 :
Supports Upto 32 GB MicroSD Card
Support 14.4 Mbps HSDPA
Support 5.76 Mbps HSUPA
Standard 6-pin SIM Card Interface
SMS Support
Plug and Play