USB port is very sensitive area in a computer. One can easily access your PC's USB drive and can steal the data without keeping in your knowledge. If you have worked in any organization, then you might have noticed that every USB port is blocked. Blocking of USB does not only protect the PC from unauthorized person, but also protects from viruses, because no one can insert unknown flash drive.
You can guard your PC online with an antiviurs, but how you will guard your computer offline. Windows USB Blocker is a freeware utility which can easily enable or disable the USB ports with a single click.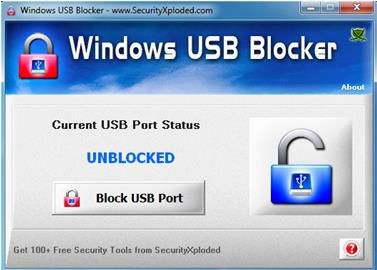 It is hardly 1Mb in size, just go at the end of the article and download the latest Windows USB Blocker. Once you have downloaded and installed this freeware application in your PC / laptop,  it will show the current status of your system USB port, either UNBLOCKED or BLOCKED.
Windows USB Blocker is totally free for use. It is a portable app and there is no installation is required. It comes with a simple UI and it is very easy to use. In a single click you can protect your computer with unauthorized access. Also you does not need to reboot after doing the changes. Another best part of this Windows USB Blocker is, it blocks only USB Storage Device. Other normal USB Device like a wireless keyboard, mouse etc. remain unaffected.
To protect the USB drive, you can also utilize Autorun Deleter and Phrozen Safe USB freeware tool.