Before a year, Microsoft has released their new Operating System, Windows 10. This modern OS collects user's personal data in the background, to improve the services, means Microsoft is "spying" on you. Everything, whatever you search or say (by using Cortana) is being transferred to Microsoft's server. Which means that Microsoft has access to your computer at any time.
These personal data are being collected from your computer through Windows services which run in the background. If you are from those, who don't want to share his personal information, can use WinPrivacy freeware tool.
WinPrivacy is yet another simple tool that helps you in fixing the privacy issues in Windows 10 computer.
WinPrivacy is a portable tool and there is no installation is required. Once you launch the app, all you have to do is to click "Fix Privacy Issues" button and rest will be done automatically. The tool will first create a system restore point and then stop "DiagTrack" and "dmwappush" services on Windows 10 and finally these two services "DiagTrack" and "dmwappush" will be deleted. After deleting the services, it will fix privacy issues, then these details will be written into host file.
If you are not happy with changes, you can undo the changes by clicking on "Undo changes made" link.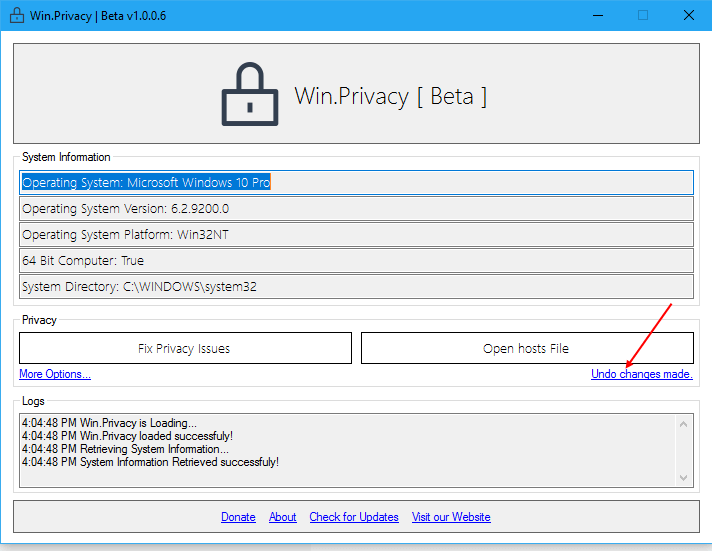 From here you can fix the following:
Enable Windows Update service
Enable location for this computer
Enable hibernate
Set diagnostic and usage data to "Full"
Win.Privacy creates a log file about the changes made by it. You can download this free privacy utility from here.
Privacy Hide, Ashampoo AntiSpy, Windows Privacy Tweaker, W10Privacy, Ultimate Windows Tweaker, Win10 Security Plus, Win10 Wizard, O&O ShutUp10, Win10 SpyStop, and Destroy Windows Spying (DWS) are another apps that are focused on the privacy of Windows 10.