Vodafone has recently launched its first 4G LTE mobile Wi-Fi router R215 in various countries. I have previously unlocked this router, which was locked to Portugal Vodafone locked. Vodafone mobile Wi-Fi R215 router is made by Huawei and customized by Vodafone and then branded it as R215. Vodafone mobile Wi-Fi R215 router is actually Huawei E5372. Still, Vodafone has not launched its 4G services but started providing 4G devices worldwide. In 4G LTE coverage area, its download speed up to 150 Mbps and upload speed is up to 50 Mbps, which is amazing. In this article, I will share my reviews with features and specifications about R215.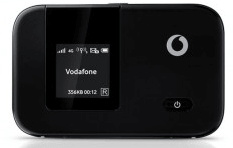 The main features and specifications of Vodafone Mobile Wi-Fi R215 4G LTE Router:
Dimensions : 99mm*62mm*14.4mm
Weight : <130g
Screen : 1.45 inch TFT. Resolution:128 X 128
Platform (OS) : Linux
Chipset : HiSilicon Balong 710
Processor : HiSilicon Balong 710
ROM : 256 MB
RAM : 128 MB
Battery Capacity : 1780 mAH
Battery Life-time : 3G up to 5,2 hours (10 users), 4G up to 4,2 hours (10 users)
Standby time : 3G/4G : Up to 445/296 hours
Networks : LTE: Tri Band, 800/1800/2600MHz, UMTS : Tri Band, 850/900/2100MHz, GSM : Quad-band, 850/900/1800/1900
MicroSD card : Class-6 micro SD-Card reader / up to 32 GB supported
Screen Types : 1.45" TFT LCD
Screen Resolution : 128×128 Mpix
WLAN : 802.11b/g/n 2.4 & 5 GHz, WEP+WPA+WPA2
Speed : Up-/Download: LTE 150/50 Mbps, UMTS 42.2/5,76 Mbps, EDGE 296/177 Kbps
USB : USB high speed 2.0 supported
SMS : Yes
The unlocking solution of R215 is also available, unlock code charge for R215 is 6 USD, which can be paid through PayPal.
Overall, Vodafone R215 / E5372 is a perfect choice for home users. It can connect up to 10 devices simultaneously with Wi-Fi.