USB Security Utilities is a freeware and portable software which helps Windows users to disinfects and vaccine his USB drive. It is also helpful to manage files and make backups of USB drives. Virus scanner, file backup, suspicious file seeker, vaccine or device immunization are additional functionality of USB Security Utilities.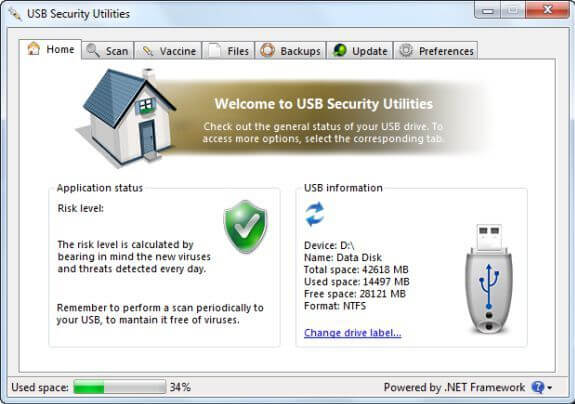 USB Security Utilities is lightweight app and can be downloaded from the download link which is provided at the end of the article. It does not only protect your data from viruses and malware, but it also shows device information, such as total size, used space and file system. This freeware tool can also change the label of your drive.
USB Security Utilities searches malware with 3 kinds of analysis: standard (based on virus signatures), generic and New Technology. It gives a better protection for RECYCLER, MsoCache, ice and Autorun.inf file. One must try this interesting tool.
If someone want only protect his USB drive, then he can use Windows USB Blocker, Autorun Deleter or Phrozen Safe USB.
USB Security Utilities works with Windows 7 and Windows 8 operating systems, however in my test it did not worked with Win 8.1 OS.
Download USB Security Utilities latest Version