Some users of Huawei Airtel E173U-1 modem getting problem after unlocking the modem. After getting modem unlocked also, after changing the SIM message comes as invalid SIM. Users who are facing the same problem should first flash his modem with the latest firmware version of Huawei E173U-1 USB 3G modem. The latest version of Huawei E173U-1 can be downloaded from the link which is provided at the end of the article. Users can upgrade his dongle to the latest version if you are facing with the old firmware. modem with old firmware.
How to Update the Firmware of Huawei Airtel E173U-1?
1. Double-click on the downloaded file. and accept the terms and conditions to go ahead.
2. Accept the terms and conditions then click Next.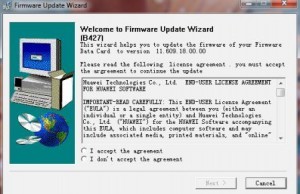 3. The firmware will start searching your modem.
4. After detection of the modem is complete, it will ask you for update password.
5. Input here firmware code, according to your IMEI.
6. After a few minutes, it will update your Huawei E173 Aircel modem to the latest firmware.
Note: Before proceeding to the above steps make sure that you have much backup in your UPS. Any power failure will make your device dead.
After updating the firmware you can now unlock your modem through the normal procedure using Huawei modem code writer tool or Cardlock Unlock tool.