Drivers play a vital role and sit between your PC and you. When you upgrade your operating system or install a fresh OS, one of the main issues is outdated drivers. It is too required for the proper functioning of the PC hardware. You can update the drivers from the Windows update, which also offers third-party drivers, but sometimes you may need a third-party tool built for this purpose only.
IObit Driver Booster for Windows
Driver Booster is one of the best freeware tools over the internet to install the latest drivers. Snappy Driver Installer is another software that offers online as well as offline drivers updates. You can also utilize the snail driver, which scans and updates outdated drivers.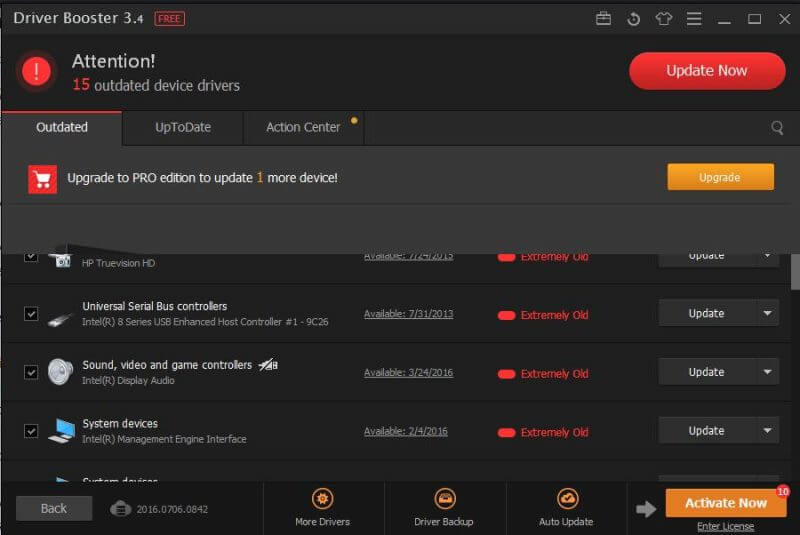 Driver Booster supports all Windows versions, including Win 11, 10, Win 8, Win 7, Vista, and XP. It allows you to keep all the drivers updated to the latest ones. With more than 2,00,000 driver databases and over 3000 brands, Driver Booster helps you find rare and newly released audio, network, graphics, and chipset drivers.
While installing, it offers for Yahoo toolbar; if you don't need to skip it. The app is relatively easy to use after installation just runs the app and automatically checks for the drivers installed and their latest versions. Once you want to update the outdated drivers of your PC, click on the Update button.
The Driver Booster software shows all the outdated drivers along with their latest version release date. You can either update all of them at once or selectively update them. We suggest you create a system restore point before proceeding with drivers update.
Once you update the latest drivers, it may ask you to restart the PC, if required. After installation is complete, you can roll back or uninstall the drivers.
Download Driver Booster
Driver Booster does not only update outdated drivers but also automatically scans and fixes missing & faulty drivers. One should keep a copy of Driver Booster. You can download it from here.
Conclusion
In conclusion, drivers play a crucial role in the proper functioning of PC hardware, and outdated drivers can cause issues when upgrading or installing a new operating system. While Windows update offers some driver updates, third-party tools like IObit Driver Booster provide a comprehensive solution. Driver Booster is a freeware tool that supports all Windows versions and helps keep drivers up to date with a vast database of drivers from various brands. It is relatively easy to use, allowing users to update drivers selectively or all at once. Creating a system restore point before updating drivers is recommended. Driver Booster also scans and fixes missing and faulty drivers, making it a valuable tool for PC maintenance.
Update: For a limited period, you can grab a free license key for IObit Driver Booster 10.5 Pro.