Like another network provider, Vodafone also keeps launching Vodafone branded ZTE and Huawei modems in the market. Recently, Vodafone has also launched 3G modem in Indian Market. Vodafone launched a beautiful ZTE K3770-Z modem in India. Unlocking of Vodafone ZTE K3770-z modem dongle is totally different. But, one can unlock it easily through unlocking Software. If you want to unlock your Vodafone K3770z modem then just go ahead at the article and download both unlocking software which is required to unlock your Vodafone ZTE K3770-Z modem dongle.
How to unlock Vodafone K3770-z ZTE Data Card Totally Free :
1. Just go ahead at the end of the article and download both tools in your PC and extract it on your desktop of your computer.
2. Now, plug the modem in your computer and let it install all the software and driver which is required to detect in the PC.
3. Now close the running software of Vodafone K3770-z ZTE modem and open K3770z downloader_original.exe From K3770z download tool and let it find the port and modem automatically.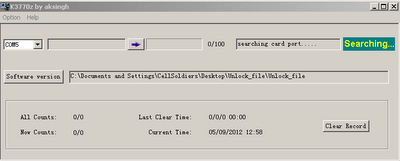 4. Now click on "Software version" button and locate the Unlock File Folder in your computer or laptop.
5. Now keep patience and wait till the process gets complete. After process gets completed, you can use any network provider SIM after creating a new profile in your K3770-z Vodafone ZTE modem.
Note : We are not taking any responsibilities of harm of your modem. Do it in own Risk.