Earlier STC has launched Huawei E5372 router in Saudi Arabia that was comes with un-customized firmware, and it was unlockable by inserting the correct 8 digit unlock code. Later, STC has launched E5372Ts-601 with customized firmware, means when you will insert another network provider SIM, then you will see that there are unlocking attempts left. It will show that device is permanently locked.
Now, solutions are available for unlocking of Huawei E5372Ts-601 MiFi that comes with firmware version 21.270.05.00.76.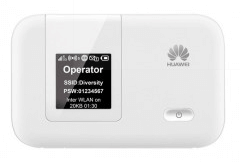 How to Unlock Huawei E5372Ts-601 STC (Saudi Arabia) with firmware 21.270.05.00.76 ?
2. Connect E5372Ts-601 with its default USB cable to PC.
3. Disconnect internet and close the WebUI / browser.
4. Now run the firmware update, it will ask you the password. (Comment below with model and IMEI to get it).
5. Input the 8-digit password, which you have got in the comment.
6. Wait till finish.
Now you have successfully flashed the firmware with universal firmware.
Note : Unlock code / NCK is not free. Its charge is only 6 USD only. Pay through PayPal button and mention model with IMEI in the transaction. Correct NCK / unlock code will be delivered in email within 8 hrs.
After getting the code, change the default SIM with another network provider SIM. Connect to PC. Log in to the device with admin / admin. It will redirect you unlocking page. Insert 8-digit unlock code and enjoy around the world.
Update : We have personally not tested this solution. Before making payment, make sure you have successfully flashed the firmware of your device.
Update: Someone update the device with E5372Ts-601_Anti_21.270.05.00.76 firmware and let me know the results.
In Saudi Arabia, Mobily has also launched Huawei E5372Ts-22 with firmware 21.270.09.00.82 and 21.270.01.00.82. Both has customized firmware and unlocking attempts are 0 left. If someone is interested in testing the solution, then let me know via comment.
Also Read: How to Unlock Customized Huawei E5372 WiFi Mobile Router from Zain Saudi Arabia?