I have already written about unlocking of Huawei SoftBank AP01HW Japanese Modem. We have also written about Unlocking of  Japanese Vodafone R201 Huawei WiFi MiFi Router Gateway. Previously I have unlocked various ULTRA WIFI 4G SOFTBANK 102HW HUAWEI E5776 4G POCKET WIFI ROUTER OF JAPAN. Emobile in Japan is very famous and keeps launching different types of Huawei models. Recently Emobile in Japan has launched Huawei D32HW Dongle Modem. Huawei D32HW supports upto 21 Mbps speed. Like another Huawei modems Huawei D32HW Emobile Japan can also be unlocked.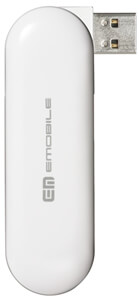 How to unlock Huawei D32HW Emobile Japan Modem :
Change the default network sim with another network provider sim in modem and plug to PC.
Now let it install the drivers and software.
After that default software of modem will automatically start and it will ask you 8 digit unlock code.
Just insert correct 8 digit unlock code into your Huawei D32HW Emobile Japan Modem and it will be unlocked permanently.
Now configure the profile as per the new sim and connect to internet.
Note : Don't use any wrong codes into Huawei D32HW Emobile Japan Modem. Huawei D32HW Emobile Japan Modem comes with Huawei new algorithm security. Huawei D32HW Emobile Japan Modem can not be unlocked with old algorithm security unlock code. If you will try with wrong codes then your modem will be locked permanently. Either purchase through any server or pay via Paypal or liberty button which is created on my blog or contact email kamlesh2011@gmail.com for cheapest rates unlock codes. Users who want more codes for them i will
reduce the prices
as less as possible.
Note : Users who are facing problem with above procedure can download the unlocking software of Huawei D32HW Emobile Japan Modem. (Disconnect internet, close the default software of modem and start the downloaded software , detect your dongle and insert the unlock code into your modem).