Unlocking of modems are necessary to choose another carrier SIM card. In this post, we will share some tools, that can help you in unlocking the modem.
How to Unlock Huawei 2G/ 3G USB Dongle Free?
Unlocking of Huawei 2G/ 3G USB modem basically involves two processes:
1. Generating the unlock code using IMEI.
2. Writing the Code into the device.
How to Generate the Unlock code?
1. There are several tools available free that can be downloaded and used for generating the unlock code for Huawei modem based on the IMEI number.
Huawei Unlocker-TrojanX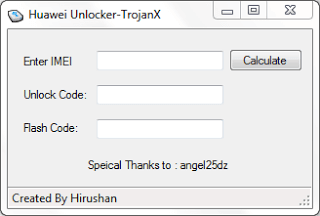 Huawei Unlocker
You can also use online tools also to generate the code for Huawei modems.
Online Huawei modem Unlock code tool
The Huawei online unlocker tool supports the following models:
E1550, E155, E156, E156G, E160, E160G, E161, E166, E169, E169G, E170, E172, E176, E180, E182E, E196, E226, E270, E271, E272, E510, E612, E618, E620, E630, E630+, E660, E660A, E800, E870, E880, EG162, EG162G, EG602, EG602G, Vodafone K2540 Vodafone K3515 Vodafone K3520 Vodafone K3565 Vodafone K3715
How to insert Huawei Unlock Code into the Modem?
After generating your Huawei modems unlock code by feeding in IMEI you have to insert code into the device. This can be done by "
Huawei Modem Code Writer v1.0b
".
How to Use Huawei Modem Code Writer?
1. Connect dongle to PC with any another SIM card.
2. Open My Computer >> Virtual CD-ROM.
3. Install in PC.
4. Now open Huawei Modem Code Writer app.
5. Detect the device under it and click Unlock.
7. Just enter the code and click OK.
Note: Some of the dongle prompt to enter the unlock code after inserting the another SIM card. Just enter the correct code and it will be unlocked forever.
Note II: Some Huawei modems cannot be unlocked with above-mentioned procedure since it comes with customized firmware and needs to change the firmware before entering the code.