Similar to Alcatel L100V, Telcel Mexico has launched L100G. It can be also unlocked as after changing the SIM card, this modem asks for 10-digit NCK.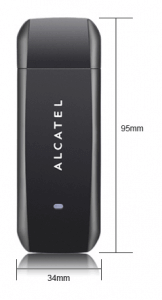 How to Unlock Alcatel L100G (Telcel Mexico) Modem?
1. Change the default SIM card with any other network provider SIM card.
2. Connect to PC USB.
3. Let it install the software and driver.
4. After installation the required files, it will automatically open L100G dongle software and ask you for SIMlock / Unlock / NCK code.
5. Enter the correct 10-digit NCK code and click OK.
Once the device will accept the code, it will be unlocked forever.
6. Create a new profile according to the new SIM card and connect to the internet.
Note: Unlock code of Alcatel One Touch L100G 4G USB data card is not free.
Order NCK of Alcatel One Touch L100G