TP-Link's another portable router is listed in Indian e-commerce online website, called it TP-Link TL-MR3020 Portable 3G/3.75G/4G Wireless N Router, can be your for a price Rs 1399.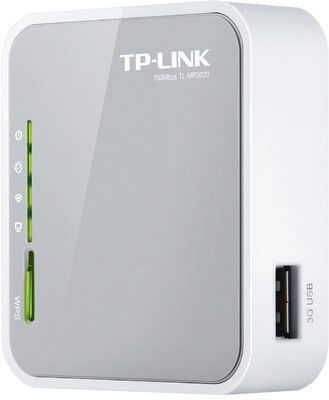 The TP-LINK TL-MR3020 is a portable and wireless N router, which features wireless standards; IEEE 802.11n, IEEE 802.11g and IEEE 802.11b. The router delivers the data over the WiFi at 2.4 – 2.4835 GHz of frequency, with a maximum speed of 150 Mbps.
One can share the internet by putting the compatible 3G or 4G dongle in the router.
The router comes with WPS BUTTON and Mode Switch controls. It has LED indicator, which indicates; POWER, WIRELESS, WPS, LAN, WAN / INTERNET.
Flipkart reseller says, it can work in three different modes : 3G Router, Travel Router (AP), WISP Client Router.
The device can be operated at 0DegC – 60DegC and Storage is possible up to 40DegC – 80DegC temperature.
The TP-LINK TL-MR3020 router works with Microsoft Windows 98SE, NT, 2000, XP, Vista or Windows 7, MAC OS, NetWare, UNIX or Linux Operating Systems.
The TL-MR3020 offers USB 2.0, Internal Antennae, RJ-45 WAN port and RJ-45 LAN port.
The TL-MR3020 comes with 152-bit WEP, 128-bit WEP, 64-bit WEP, WPA-PSK, WPA2-PSK, TKIP, AES and ACL encryption supported.
DHCP Client List, Address Reservation, DHCP Server, Parental Control, Host List, Access Schedule, Rule Management, Virtual Server, Port Triggering, DMZ and UPnP are additional features of this router. However, the firewall is secured with DoS, NAT, SPI and MAC Address Filtering. The VPN features PPTP, L2TP and IPSec Pass-through.
The TL-MR3020 supports the following models : Aircel: E1750C, EC303S (Huawei), Airtel: E1731 (Huawei), BSNL: E173 (Huawei), EVDO UE 100 (Prathivi), AC8700 (ZTE), Idea: E1732, E303D (Huawei), MTS: EC122, EC306 (Huawei), MTS: AC2726, AC2736, AC2746, AC2766, AC2787 (ZTE), Reliance Netconnect: E173, EC1260, EC1262, EC150, EC159, EC168C (Huawei), Reliance Netconnect: AC2726, AC2736, AC2737, AC2738, AC8710, AC8720, MF190, MF668 (ZTE), Tata Docomo: E177 (Huawei), Tata Docomo: MF631 (ZTE), Tata Photons: EC1260, EC1261, EC152, EC156, EC306 (Huawei), Tata Photons: Olive-V-ME102 (Olive), Vodafone: AC2746, K3770-Z (ZTE).
Device dimension is Height 22 mm x Width 74 mm x Depth 67 mm.
With One Button Security Setup, the TL-MR3020 allows users to instantly setup their security simply by pressing the WPS button on the router and automatically establishing a WPA2 secure connection, which is more secure when compared with WEP encryption.
Bandwidth of mobile broadband is limited. With the router's IP QoS function, the TL-MR3020 allows optimum utilization of bandwidth and offers bandwidth control over congestion, preventing bandwidth abuse. When sharing your mobile broadband with others, you can decide how the bandwidth is shared based on your requirements.
The TL-MR3020 can be installed quickly and easily almost anywhere. All you need to do is insert the USB modem into the router, search for its wireless SSID on your computer and connect to it. Users can be online and surfing the internet in no time, with the user guide on provided CD, even novice users can easily set up their wireless internet connections.
Note : Earlier, TP-LINK TL-MR3020 router has been manufactured with 3G support only, if your router does not supports 4G technology, then you need to upgrade the firmware.
Download TP-Link TL-MR3020 Router Firmware V1 140610.zip
The main features and specifications of TP-LINK TL-MR3020 Portable 3G/3.75G/4G Wireless N Router :
3 Working Modes
IP-based Bandwidth Control
Quick Security Setup
Portable Design
Share a 3G / 4G Mobile Connection