It may happen that you have deleted your important files accidentally and now searching online for free recovery tool. There are so many freeware available over the internet for Windows PC, that can restore your data back on your computer. I have already discussed some of the freeware like AOMEI OneKey Recovery, iCare Data Recovery Pro, Lazesoft Recovery Suite, and MiniTool Power Data Recovery.
Today, we are going to review Stellar Phoenix Windows Data Recovery Tool, which is build for Windows OS, and it is free. It can recover lost or deleted data from your internal hard disk as well as external devices. Its scanning engine is fast and effective, can retrieve any file you ever lost – it was not over-written.
Stellar Phoenix Windows Data Recovery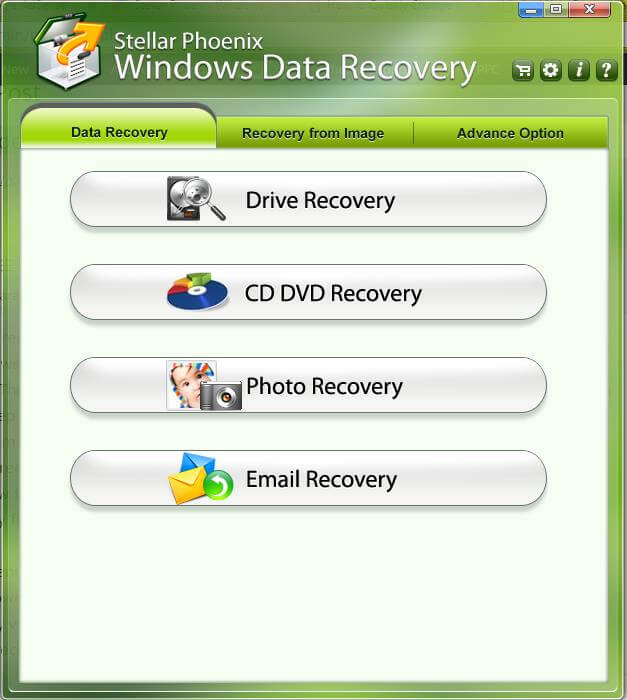 Stellar Phoenix Windows Data Recovery can easily recover your lost photos, videos, emails, and lots of other file types. The scanning process is very fast, and takes only 5 minutes to scrutinize the whole 100 GB drive.
The main interface of the Stellar Phoenix Windows Data Recovery has three tabs : Data Recovery, Recovery from Image, Advance Option.
Data Recovery
Under data recovery, there are four options available, Drive Recovery, CD DVD Recovery, Photo Recovery, and Email Recovery.
Drive Recovery
If you have lost a file and you want to recover that, under drive recovery select the partition and this software will represent with a lot of recovery options. You can select from quick / raw / deleted / advanced recovery. If you have formatted the hard disk or deleted the whole partition, for that you have to through the link labeled "Click Here to Search Lost Volumes".
CD DVD Recovery
You can recover data from damaged CD / DVD disk. Very few people use CD / DVD, still, it is an important option.
Photo Recovery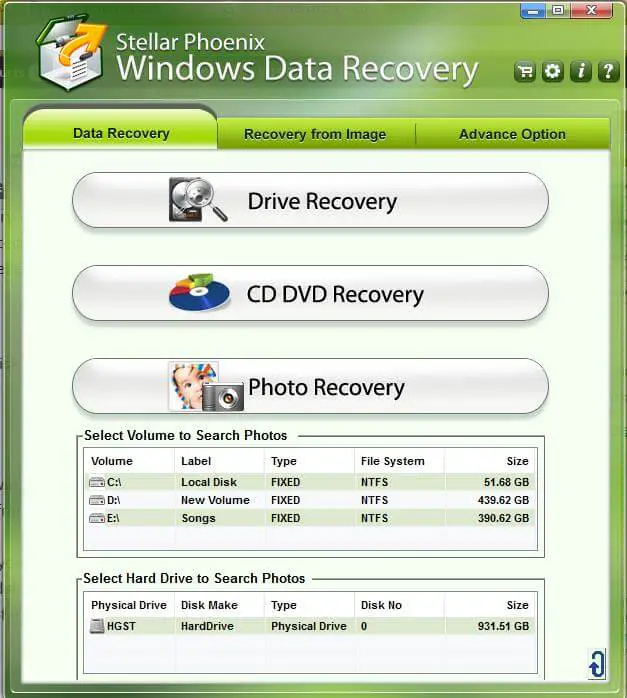 Stellar Phoenix Windows Data Recovery comes with an inbuilt feature of Photo Recovery which helps you regain the important photos from the hard disk. You can select a particular drive in which you had saved your photos or entire hard disk, and then let the tool do its magic. Its effective scan engine recovers every deleted image files that were present in your selected drive / hard disk. It will represent a list of photos, you can then go through the image files that you want to recover.
Email Recovery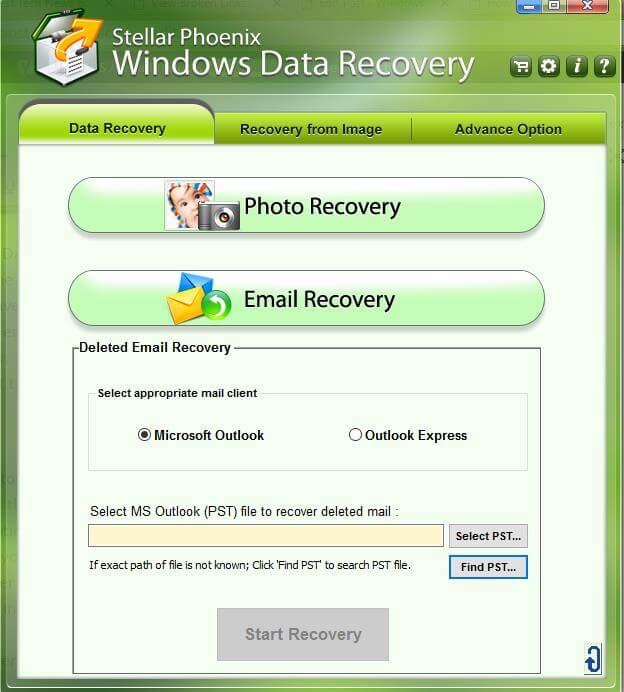 Windows Data Recovery tool comes with an efficient Email Recovery option also. You can easily recover the emails that you deleted by chance. You have to select the appropriate mail client from among the options that are available in the tool : Microsoft Outlook or Outlook Express. For example, if you select Microsoft Outlook as your mail client, then you need to select a PST file to recover the deleted email. PST file type is primarily associated with Microsoft Outlook, and it includes all E-mail folders, addresses, and other relevant details.
Recovery From Image
This free software also recovers deleted images. This feature is not available in any another recovery software.
Support for a large number of File Types
Stellar Phoenix Windows Data Recovery tool supports a large number of file types. You can even add other file types to this tool. You would need to append a header file for adding any custom user defined file types.
Advanced option
Create Image
This tool is able to create an image of your drive. Just select any partition / hard drive and start imaging it.
Clone Drive
Clone drive lets you create a clone of your physical hard disk and lets you save on another location.
Drive Status
Finally, under Drive Status, you will be able to view hard disk status, model no., serial no., sizes of the hard disk, smart features enabled or not, volume size, free space on a particular volume, starting sector etc. You can download Stellar Phoenix Windows Data Recovery from here.