Xperia Z Tablet recently launched with "faster, lighter and more colourful" tagline. The flagship android based 172 x 266 x 6.9 mm dimension Sony's tablet is now available via e-commerce website Flipkart, at Rs. 31000.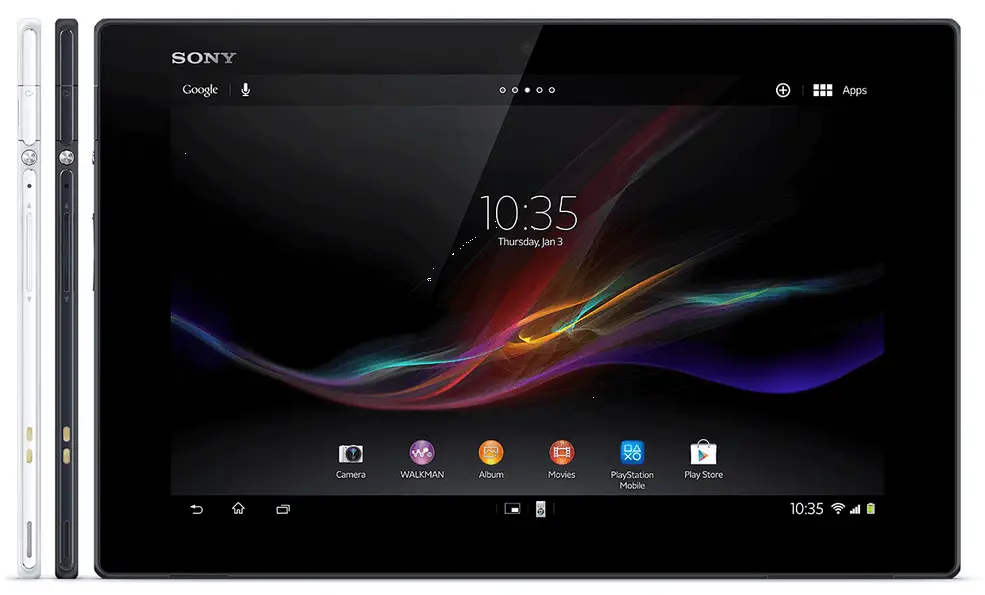 The Xperia Tablet Z comes with a brilliant 10.1" (25.65 cm) HD immersive viewing reality TFT display along with 16,777,216 colours as well as 1920×1200 pixels resolution. At just 6.9 mm thin and weighing 495 grams (17.46 oz). The company uses the expertise from his BRAVIA TV engineers while developing his mobile screens, to bring you the same quality you'd expect from a top-quality HDTV. Xperia Tablet Z brings revolutionary screen technology to the tablet viewing experience. With a full wide colour gamut, Xperia Tablet Z reproduces the widest colour spectrum, so you can view every detail in vivid colour.
Sony Xperia Z tablet official video :
Xperia Z is made of Qualcomm Snapdragon S4 Pro processor, with advanced 1.5 GHz Quad-core processor gives you maximum performance and speed, and incredible graphics, without draining your battery. The Snapdragon S4 Pro processor is asynchronous, which means each core is powered up and down independently. The processor has Adreno 320 GPU (graphics processing unit), which is two times faster than the previous Adreno processor, lets play the most advanced, visually stunning 3D games, and browse the web quickly and smoothly.
This ultra-light Android tablet is waterproof and dust-resistant, with a super-strong glass display. Whether you're surfing poolside or scrolling through a recipe with wet fingers, Xperia Tablet Z can take it. As official website says, "It can keep going after 30 minutes underwater up to 1 metre. Just remember that all the covers for the micro USB port, the micro SIM slot, the headphone jack and the memory card slot must be firmly closed".  The Sony Xperia Tablet Z has an impressive IP55/IP57 rating, making this slim and sleek tablet resistant to water and dust.
"Sony Xperia Tablet Z is the perfect choice for anyone seeking a combination of unique style and technology." voted by Europe's most influential technology experts.
With Sony Xperia Z Tablet sports a built in 4G LTE modem with Snapdragon S4 Processor, let you browse the internet 10 times faster than ever.
Xperia Tablet Z boasts an advanced 8.1 megapixel rear camera with 16x zoom capacity, built with the same modules as leading Sony camera, lets you take high quality beautiful HD pictures and videos . The Exmor R for mobile sensor is the mobile version of the revolutionary Sony "Exmor R" sensor, which was developed to take exceptional photographs in candlelight. The tab also includes the Sony Exmor R for mobile sensor on the 2 megapixel HD front camera as well, allows to high quality HD video chat.
The Xperia Z runs on Google Android 4.4 (Kitkat) OS, sports 2GB RAM, along side 16GB inbuilt storage memory, can be upgraded upto 64Gb using a microSD card.
Google Chrome, Google Maps for Mobile with Street view & Latitude, Google Play, Google Wallet are main applications, which are preloaded in Sony Xperia Z Tablet.
Screen mirroring, Throw, TV side view, Remote control application, HDMI via MHL support, Wi-Fi and WiFi Hotspot functionality,
DLNA Certified, Bluetooth 4.0 wireless technology, NFC, USB High speed 2.0 , Micro USB support, Xperia Link, GLONASS, PC Companion, 3.5 mm audio jack (CTIA), Synchronisation via Exchange ActiveSync, Google Sync and Facebook, Media Go, USB charging, HDCP are main connectivity and communication options are available in Xperia Z Tablet.