I had previously shared with you "How to Connect Internet in Novatel Wireless 3G Modems to Mac OS X (Leopard) with Apple Drivers". Today, I am sharing "How to Setup Dial-Up Connection for Novatel Data Card in Windows Vista".
How to Setup Dial-Up Connection for Novatel Data Card in Windows Vista?
1. Close all the running software and other programs, which is running on the desktop, so that no confusion in between setting up dial-up connection for your Novatel modem.
2. Click on Start from the left corner of Windows Vista and go to Settings – Control Panel.
3. Here, click on Network and Internet.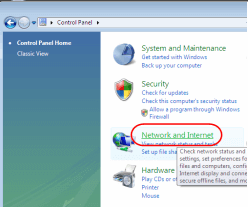 4. Click on "Network and Sharing Center".

5. Select "Set up a connection or network".
6. Select 'Set up a dial-up connection: ' and click Next to continue.
7. Choose Modem, Select 'Novatel Wireless……'.
8. Here fill-up the required field of connection properties, as mentioned below :
Enter Dial-up Phone Number – *99#
Enter your username and password – Username and password provided by your network service provider
Enter a connection name – Depending on your preference, you may choose to make this connection available to other users on this computer
9. Now your connection is ready, Click Connect.
10. Now you will get a screen Connecting to .
11. Now, you have successfully created the Dial-Up connection for your modem. To able to use internet you must specify the APN. You need to add APN to modem initialization string.
How to add APN to modem initialization string :
1. Go to system properties screen by Start – Setting – Control Panel – System and Maintenance – System and Select 'Device Manager' .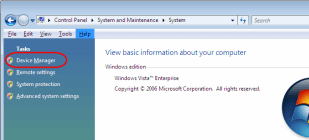 Note : Quickest way is to Press Windows key and Pause key at same time to open System
2. Expand Modems and Click on '+' to expand Modems. Right Click on "Novatel Wireless…" and select Properties
3. Choose Advanced tab.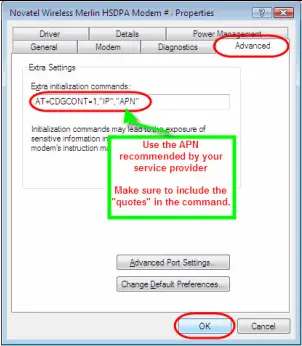 Enter the Extra initialization command string in order to select the APN provided by your wireless network service provider.
The format is
AT+CGDCONT=1,"IP","APNstring"
– "quotes" are required.
– APNstring as per instruction from your service provider
4. Select OK.
5. Now your dial-up connection is fully ready to connect to the internet.
6. Go to 'Start' -> 'Connect To'
7. Here, you will get a list dial-up up connection (if created more than one). Select Novatel Dial up and click on Connect.
If all the steps you have done successfully, then you will be easily able to browse the internet using Dial up connection of Novatel dongle.