Samsung Galaxy Tab 4 (Alternate name T231) is listed in company official store of India with a tag price Rs 18099. The handset was already made available through Indian eCommerce online website with a price of Rs 16490. Notably, Samsung Galaxy Tab 4 (SM-T230NZWAXAR) is listed in company USA website with same specs as T231, but with a tag price $199.99 (According to Indian Currency it will be approx Rs 12000 only).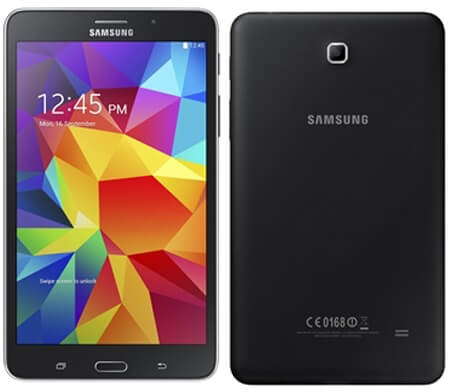 According to the listing of Samsung, the Galaxy Tab 4 (T231) sports a 17.7cm (7-inches) TFT WXGA (1200 x 800, 215PPI) touchscreen display. The T231 measures 186.9×107.9x9mm dimensions and 281gm weight. The handset features HSPA+21 Mbps Quad 3G 850/900/1900/2100 MHz and 2G 850/900/1800/1900 MHz frequency bands.
It is build with 1.2 Ghz quad core processor, which is couple with 1.5 GB of RAM.
The Samsung Galaxy Tab 4 (T231) is powered by a 4000mAH battery. Connectivity options includes; Bluetooth BT v4.0, USB 2.0, WiFi 802.11 a/b/g/n 2.4+5GHz, Wi-Fi direct, 3.5mm Ear-Jack, A-GPS, GPS & GLOSS.
It comes with 8 GB of internal storage, further can be upgraded with up to 32 GB of microSD card.
Dropbox 50GB, Hancom Office Viewer Kid's, Mode Smart Screen, Multi Window, Pop Up Video and Smart Stay are additional features of the Samsung Galaxy Tab 4 T231 Tablet.
The Samsung T231 houses a 3 MP rear camera, and also an 1.3 MegaPixel frontal camera onboard.
The main features and specifications of Samsung Galaxy Tab 4 (T231) :
Byzu Classes
1.2GHz Quad Core
WXGA Display
1.5GB RAM