DC Unlocker team is great among the all unlocking service provider. Recently DC Unlocker team had launched DC-Unlocker – ZTE Qualcomm Writer v.0.0.0.9. DC-Unlocker – ZTE Qualcomm Writer v.0.0.0.9 can not only unlock the latest released ZTE MF622, ZTE MF180, ZTE MF190, ZTE MF190U but it can repair the lost IMEI also. If IMEI number is missing for your ZTE modem, you can repair it by ZTE Qualcomm Writer program.
How to repair lost IMEI of ZTE modem using ZTE Qualcomm Writer :
1. Detect device by ZTE Qualcomm Writer software and when it is detect then click "Write NV Backup" button.
2. Now open the directory where software is located as there will be backup file placed automatically before flashing procedure or after you read it manually by ZTE Qualcomm Writer. Select backup file of your device and click "Open".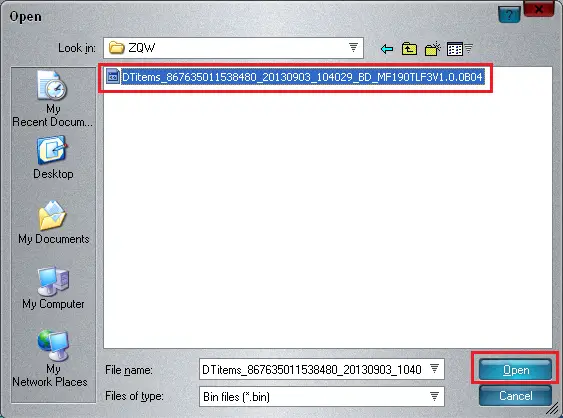 3. Now  IMEI number will be shown on the following window. Select "Write Only IMEI".

4. Now wait for repair procedure to finish, then modem will be re-detected by software with its repaired IMEI number.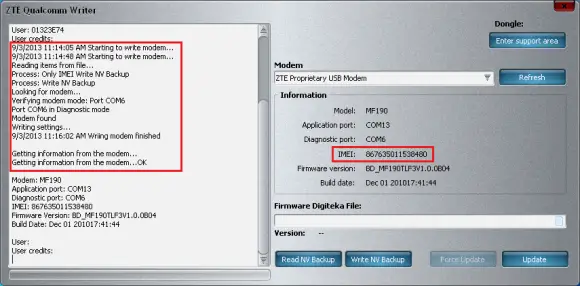 Note : The above mentioned procedure will only work if you have backup your NV Item of ZTE modem before flashing the modem. But, as you may already know the DC Unlocker takes huge charge for unlocking and repairing of the modems. So, wait for my new update for free solution to repair the all types of Huawei and ZTE modem.