Unlike the Auslogics Registry Cleaner, which cleans the Registry files to boots speed up of Windows 10 operating system, the Registry Compressor compresses the Registry files to speed up your computer. While compressing, the Registry Compressor freeware tool re-arrange the files, so that Windows can access it faster, and it will make your PC faster. It does not remove or add anything to the registry, just rebuild the registry to new files, as a result of which all extra space is gone and the registry is smaller.
Registry Compressor is a free and portable tool, means there is no need to install on your PC. Once downloaded, you can run this tool to analyse the registry files and later you can compress.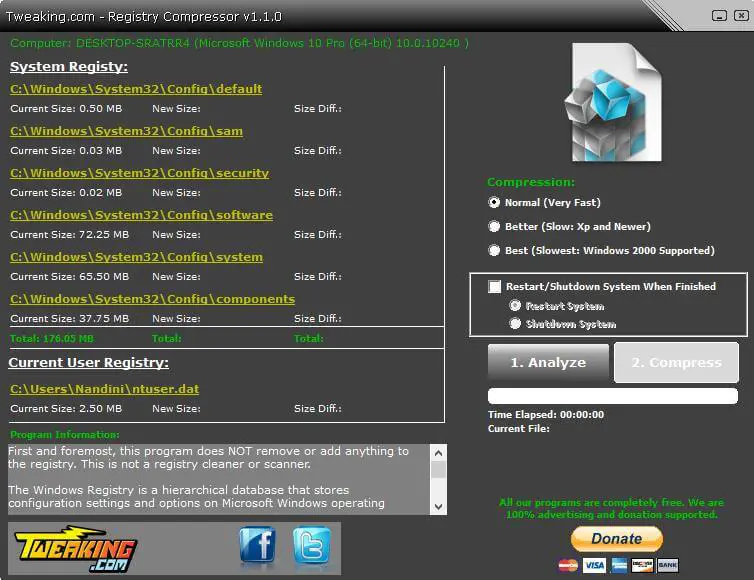 This freeware tool provides three types of Compression : Normal (Very Fast), Better (Slow: XP and Newer) and Best (Slowed: Windows 2000 Supported). Once compression finished, it provides two options : Restart or Shutdown System.
The Windows stores Registry files in a hierarchical database that stores configuration settings and options on Microsoft Windows operating systems. Just like program files, the registry can become bloated and large when you install and uninstall various software in your PC. When this happens the system can become slower and use more CPU as programs and the operating system take longer to read and write to the registry, just like any other database.
Just Keep in mind, this is a just Registry Compressor, not the Registry Cleaner tool.
Registry Compressor is compatible with all version of Windows including Windows XP, Win Server 2003, Vista, Win Server 2008, Win 7, Win 8, Win 8.1, Win 2012, Win 10 (32 & 64 Bit). You can download Registry Compressor from here.