Windows Registry plays a vital role, and before making any changes, you must take the backup of the same. You can take the backup of Windows Registry manually, or for easiness you can use any freeware.
Regbak is a freeware tool that lets you backup & restore the Windows Registry in a few seconds. It is only 573 KB in size, but compatible with Windows 2000, 32/64-bit Windows XP, 2003, Windows Vista, Windows 7, 8, 8.1, 10 operating systems.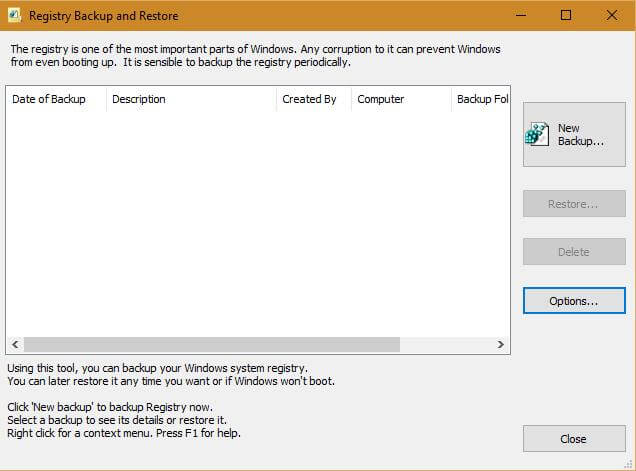 The Registry is a hierarchical database which is used in the Microsoft Windows to store information necessary to configure the PC for one or more users, applications and hardware devices.
The Registry contains various information that Windows refers during the operations such as setting profiles for each user, details about the applications installed on your computer, types of documents that an application can create, existing hardware in the system, the ports that are being used, etc.
Regbak freeware can easily backup your whole Windows registry files. Install and launch the application, click New Backup.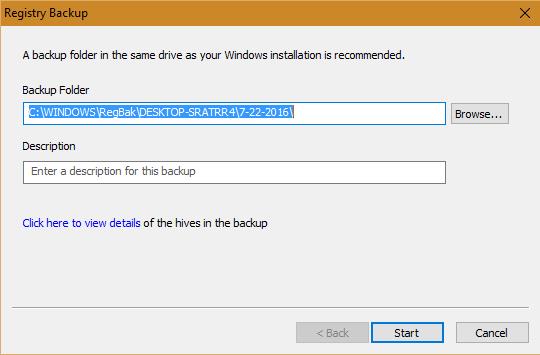 If you will not select any Backup Folder, then it will create a new folder for you, with the current date reference. In the Description field, write a useful name, and finally click on "Start" button to create the registry backup.
The RegBack software keeps a record of all the registry backup. When you will launch this tool next time, you can see the backup which you had created earlier.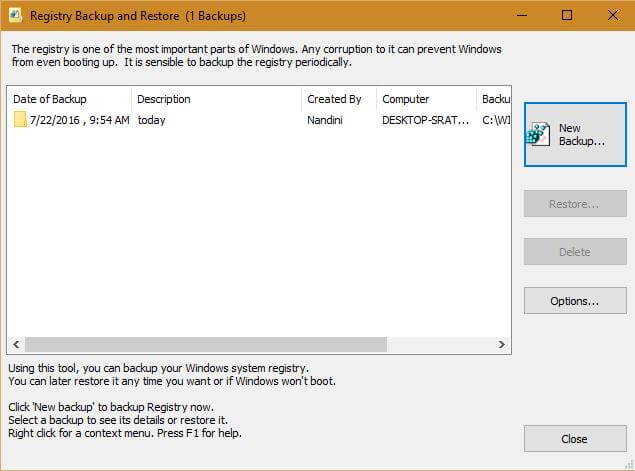 At any stage, you feel that you should restore the registry backup, select the backup file, click on Restore button to restore it. You can also delete any previous backup.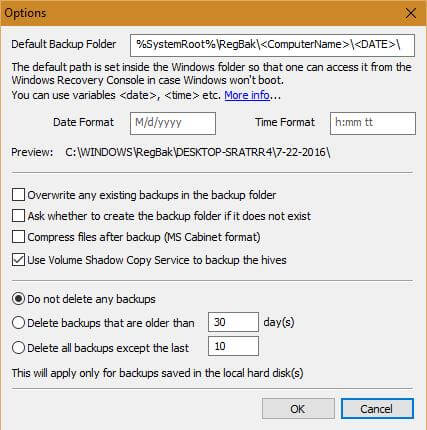 Under options, you can specify the default backup folder. Other options are:
Overwrite any existing backups in the backup folder
Ask whether to create the backup folder if it does not exist
Compress files after backup (MS Cabinet format)
Use Volume Shadow Copy service to backup the hives
Don't delete any backup
Delete backups that are older than specified date
Delete all the backups except the following number
Regback is a great tool to create or restore registry backup. It can be used with Windows XP, Vista, 7, 8, 10. You can download it from here.