If you have accidentally deleted your important file from your Windows PC, you can get it back with the help of a third party tool, the Recuva. Recuva comes from the most popular cleaning software company Piriform, which provides CCleaner. Recuva can recover lost files after a computer crash, recycle bin, digital camera card, USB drive, CD/DVD disk, or MP3 player also.
Recuva can recover all types of pictures, music, documents, videos, emails or any other file type you've lost. It can recover the deleted data from any rewriteable media such as memory cards, external hard drives, USB sticks and more. It is also able to recover files from damaged or newly formatted drives.
How to use Recuva File Recovery?
1. Download and install it in Windows PC.
2. Once the installation is completed, open it from desktop shortcut.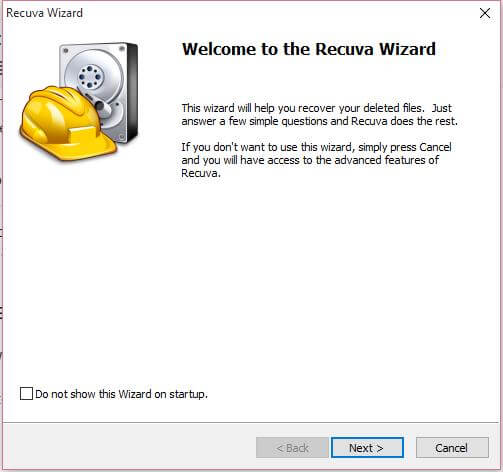 3. Click Next button.
4. You have various types of options here, if you want to recover a particular type of files then this option is useful. You can choose from Pictures, Music, Documents, Video, Compressed, Emails and All files.
In my case, I am selecting Pictures and proceeding with Next step.
5. Now you can choose from various options like media card or iPod, My Documents, Recycle Bin, any specific location (you need to specify by clicking on Browse) or if you not sure from where you have lost the file, then just select "I'm not sure" and click Next.
It will scan your whole computer.
6. If you have overwritten the file with any other file or want to scan your hard disk from scratch, then click on "Enable Deep Scan".
7. Finally, click on Start.
It will start scanning your whole computer for pictures.
8. It will list all the files, which are currently available on the hard disk as well as which are deleted earlier.
It will take time depending on the hard disk size and speed of your computer.
9. Select the file one by one, which you want to recover. If you want to recover all the files, then click "Switch to advanced mode" from top right corner.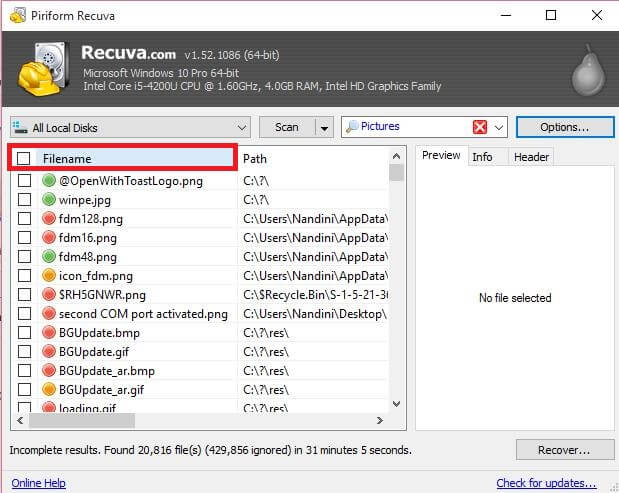 10. Click checkmark "Filename" to select all the files from results.
11. Click Recover.
12. Locate the folder where you want to keep the recovered files.
Now you have done it.
This free software Recuva is compatible with all major operating systems including Windows XP, Vista, 7 , 8 , 8.1 and Win 10 (32-bit and 64-bit).
Overall Recuva is a great piece of freeware tool (less than 5 MB in size) that can recover your files in disaster. You can download Recuva from here.
Glary Undelete, Puran File Recovery, Pandora Recovery, Stellar Phoenix, and AOMEI OneKey Recovery are another freeware tools that is built for recover the data from your computer.
You might be also interested in the giveaway of iCare Data Recovery Pro.