DNS (Domain Name System), is the name resolution protocol for TCP/IP networks, such as the Internet. Client PC queries to DNS server to resolve IP address to name and vice-versa, to communicate with each other.
DNS are equivalent to the phone book. It maintains a directory of domain names and translates them to Internet Protocol (IP) addresses. Although domain names are easy for people to remember, but computers or machines access websites based on IP addresses.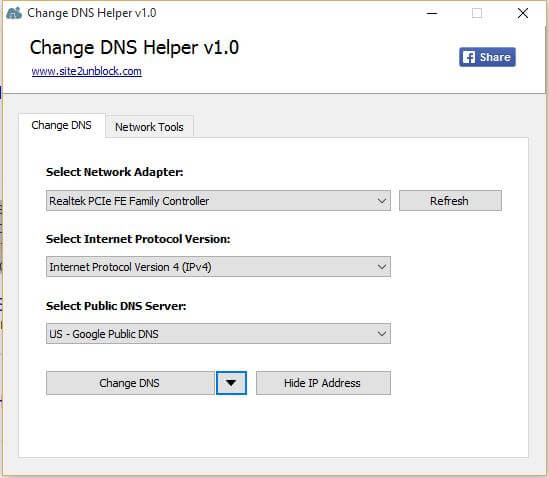 Once you have selected the appropriate Network Adapter, select the Internet Protocol Version (IPv4 or IPv6).
From the lists of Public DNS Server, select any open DNS server. You can choose between :
Google Public DNS
Open DNS Family Shield
Open DNS Home
Comodo Secure DNS
Yandex DNS
Norton ConnectSafe
DNS Watch
Dyn Recursive DNS
Open NIC project
FreeDNS
Neustar DNS Advantage
Censurfridns
Alternate DNS
SafeDNS
SmartViper Public DNS
Green Team DNS
Verisign Public DNS
Level3
This DNS Helper allows you to change DNS, reset DNS servers, backup DNS server, restore DNS servers. Once you change the DNS and find not working, you can reset DNS servers to its default settings.
Finally, there is a great option to protect online your PC, Hide IP Address.
Under Network Tools tab, there are some useful tools and links are available, like Flush DNS Cache, renew IP address, reset TCP/IP Stack, run ping test, fast VPN service, remote IP address and speed test. You can download DNS Helper from here.